TheVerge's Joshua Topolsky summarizes the iPad 3 casing findings reported earlier today, but also adds his own sources regarding some details of the iPad 3.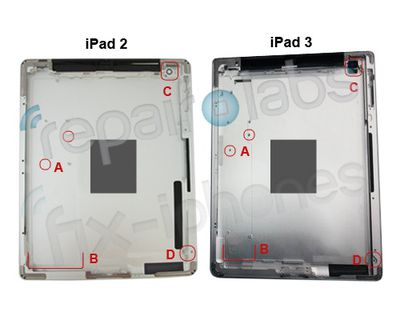 Image from
RepairLabs
As expected, the iPad 3 will reportedly include a 2048x1536 Retina Display, be nearly identical physically, and use the A6 processor. The A6 processor, however, is claimed to have a dual-core chip, not a quad-core one, at least according to his sources:
What is surprising, however, is that our sources say that the A6 will not be a quad-core chip, but will remain dual-core. We've previously had heard that the device would have a quad-core CPU as well as an LTE cell radio on-board, but at least part of that story wasn't accurate.
Previous rumors for the iPad 3 have claimed that the A6 processor would include a Quad-Core processor. iOS 5.1 also showed some early evidence of code-support for quad-core processing.
While a dual-core A6 is certainly possible, Topolsky's iOS device sources haven't had the greatest track record. In early 2011, his sources claimed that the iPad 2 would include a "super high resolution display" as well as an SD card slot, and a "completely redesigned" iPhone 5 to come in summer 2011. Topolsky did backtrack on those predictions, but not until the week before the iPad 2's launch.
Topolsky was also the original source of the the tapered iPhone 5 design and elongated home button. While we do believe that design was based in reality, it's hard to ignore that it never came to be.