Evidence of Quad-Core Chips Shows Up in iOS 5.1 Betas
9to5Mac reports that evidence of support for quad-core processors has shown up in beta versions of iOS 5.1, lending support to claims that Apple's forthcoming A6 chips will see a doubling in the number of processing cores.
The references to quad-core iPhone and iPad chips come by way of a hidden panel that describes cores that are supported by iOS device hardware. The updated core management software includes an option of "/cores/core.3," and this represents a fourth available processing core…
The report notes that single-core processors such as the A4 found in the iPhone 4 and original iPad fall under a "cores/core.0" designation, while dual-core processors such as the A5 in the iPhone 4S and iPad 2 are covered by a "/cores/core.1" designation. The "/cores/core.3" reference thus suggests compatibility with a quad-core chip.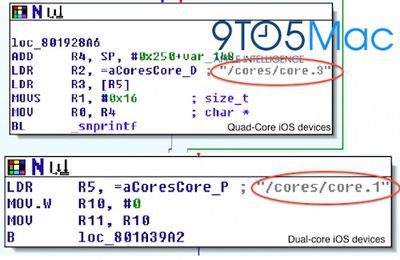 Apple's A6 system-on-a-chip has been rumored several times to carry a quad-core processor, and has been presumed to be set for inclusion in the company's next-generation iPad and iPhone models. There have, however, been some questions about whether the production timeline for the A6 would support its inclusion in the iPad 3, which is rumored for a release around March of this year.