iPad 2 with High Resolution Screen and SD Card Slot, iPhone 5 with A5 Processor?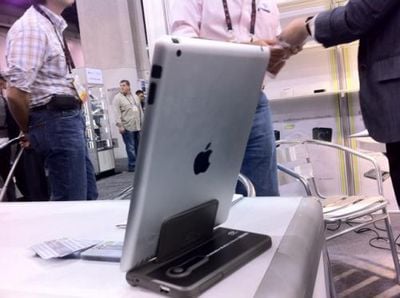 iPad 2 dummy model found at CES
Engadget claims
to have some details about the upcoming iPad 2, iPhone 5 and next generation Apple TV.
The iPad 2 details are close to what has been reported. This includes a "super high resolution" screen that is akin to the iPhone 4's Retina Display. The physical screen size is said to remain the same but will feature both front and rear cameras. One somewhat new piece of information they do provide is that they claim that the new iPad will carry an SD card slot. There had been talk and speculation about an SD card slot based on some of the earlier circulating case designs, but no real definitive statements.
Meanwhile, Engadget also claims that Apple will start transitioning their communication chipsets to those produced by Qualcomm. The move will allow for Apple to support dual-modes allowing for both Verizon and AT&T compatibility in the same hardware model. This chipset change will also advance to the iPhone 5, again allowing a single hardware model to work across both Verizon and AT&T. Right now, Apple is producing two distinct iPhone 4s to support both CDMA (Verizon) and GSM (AT&T) modes.
The iPhone 5 is said to be "completely redesigned" with an expected launch in the summer. One major upgrade will be a Cortex A9-based multicore processor (to be dubbed the Apple A5). The current Apple A4 processor is a single-core Cortex A8 processor. This faster processor will also make its way into the next generation Apple TV.