Apple Reports Best Quarter Ever in Q1 2012: $13.06 Billion Profit on $46.33 Billion in Revenue
Apple today announced financial results for the fourth calendar quarter of 2011 and first fiscal quarter of 2012. For the quarter, Apple posted revenue of $46.33 billion and net quarterly profit of $13.06 billion, or $13.87 per diluted share, compared to revenue of $26.7 billion and net quarterly profit of $6 billion, or $6.43 per diluted share, in the year-ago quarter. Gross margin was 44.7 percent, compared to 38.5 percent in the year-ago quarter, and international sales accounted for 58 percent of the quarter's revenue. Apple's quarterly profit and revenue were both company records.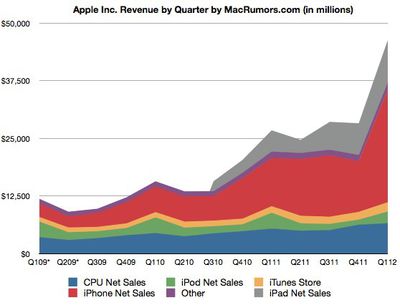 Apple shipped 5.2 million Macintosh computers during the quarter, a unit increase of 26 percent over the year-ago quarter. Quarterly iPhone unit sales reached 37.04 million, up 128 percent from the year-ago quarter, and the company sold 15.4 million iPods during the quarter, representing 21 percent unit decline over the year-ago quarter. Apple also sold 15.43 million iPads during the quarter, up 111 percent over the year-ago quarter. Apple set new company records for iPhone, iPad, and Mac sales during the quarter.

"We're thrilled with our outstanding results and record-breaking sales of iPhones, iPads and Macs," said Tim Cook, Apple's CEO. "Apple's momentum is incredibly strong, and we have some amazing new products in the pipeline."
Apple's guidance for the second quarter of fiscal 2012 includes expected revenue of $32.5 billion and earnings per diluted share of $8.50.


Apple will provide live streaming of its Q1 2012 financial results conference call at 2:00 PM Pacific, and MacRumors will update this story with coverage of the conference call highlights.
Conference Call Highlights
- Highest quarterly revenue and earnings in Apple history.
- Numerous new records for quarterly iPhone, iPad, and Mac Sales
- Extremely pleased with momentum of the business
- Sales aided by inclusion of 14th week in the quarter.
- Net income increased 118% year-over-year, equal to half of net income generated over all of fiscal 2011
- Set new records for desktops and portables, up 26% year-over-year versus 0% growth for entire PC industry
- Mac sales outgrew the market in all geographies, particularly in Asia-Pacific
- Very strong growth of MacBook Pro and MacBook Air
- 3-4 Weeks of Mac Channel Inventory
- Mac App Store a great success, 100 million downloads in the first year
- 15.4 million iPods vs 19 million in year-ago quarter. iPod Touch accounts for more than half of iPods sold. iPod market share remains over 70% according to NPD.
- Ended quarter with 4-6 weeks of iPod channel inventory.
- iTunes Store generated $1.7b of revenue. 20 million song catalog. iTunes customers "amazingly busy" on Christmas, more than 140 million downloads on December 25
- iPhone represented 124% year-over-year growth vs 40% growth for industry according to IDC.
- Royal Dutch Shell, Credit Suisse, Covidian, Nike, Facebook, among others, rolling out iPhone across the enterprise.
- iPad revenue up 99% year-over-year.
- iPad sales exceeded expectations, sell through exceeded sell-in by 200,000 units. 4-6 weeks of channel inventory.
- Enterprise actively using iPad with custom apps.
- 1.5 million iPads are in use across educational institutions.
- 315 million cumulative iOS device sales. 62 million in December quarter.
- 85 million iCloud customers signed up.
- App Store is "incredible successful" - 550,000 apps total, 170,000 iPad apps.
- $4 billion to developers cumulatively, $700 million in december quarter.
- $6.1 billion for retail, large growth for iPhone, iPad and Mac sales.
- iPhone sales doubled year-over-year thanks to iPhone 4S.
- 1.1 million Macs sold vs 851,000 year-over-year.
- 4 new stores including Grand Central and 3 stores in Europe. 361 stores total.
- 358 stores open, avg $17.1 million in revenue up from $12 million last year.
- Store traffic reached 110 million vs 76 million year-over-year, up 45%.
- 22,000 visitors per store per week.
- EasyPay checkout process enhanced ability to handle high traffic levels.
- Total company gross margin was 44.7%, 4.7% higher than guidance. Lower commodity costs, better than expected iPhone mix, among other items.
- $370 million in stock based compensation expense.
- 25.25% tax rate for the quarter.
- $97.6 billion in cash and marketable securities, up $16 billion from prior quarter. $64 billion of cash is offshore.
- "Actively discussing" uses of cash balance, have nothing to disclose today. "Not letting it burn a hole in our pocket."
- Next quarter's expectations: $32.5 billion in revenue, 42% gross margin with $60 million in stock based compensation, $3.05 billion in CapEx, 25.25% tax rate. EPS of $8.50.
Q&A
Q: iPhone momentum as the quarter ended? What's included in guidance for first half of the year?
A: Thrilled with 37 million iPhones sold. Substantially above the 20 million unit-record previously. "Breathtaking customer reception to the iPhone 4S" and Siri and camera. Customers "absolutely love" the phone. Attribute it to a bold bet as to what the demand would be, as it turns out, with it being a bold bet, we were short of supply throughout the quarter. Did end with a significant backlog on the iPhone. Situation has alleviated some, but still short in some key geographies.
Attribute performance to delayed purchases from the prior quarter as well. Made the correct decision to go with a broad range of iPhone models, was the benefit we thought it would. 14th week helps as well, though everyone knew that.
Geographically we saw strength in every key region, but in particular the US and Japan which got going early in the quarter. Had more sales days than most countries. No iPhone 4S sales in mainland China last quarter, either.
Q: Was pent-up demand at the end of December in countries like the US and Japan that had the phone all quarter? Or was it other countries that didn't have the phone? How are component pricing to help rebuild inventory and other issues?
A: Don't want to comment on current sales trends. We've included that in our guidance. We've just launched in China and the demand there has been "staggering". We are selling through our online store -- not currently selling in retail store -- demand is off the charts. Very happy with demand response in China. Other countries that we launched earlier this quarter were much smaller. We'll see how things go from a supply/demand perspective. We've made progress from the end of the quarter through today. Some countries where we aren't caught up.
Component environment is favorable, one of the reasons we could overachieve on gross margin. Would predict this would continue on most components except for hard drives which are still affected by Thailand. Don't anticipate having a material supply issue this quarter, though we will pay more for supply to make sure we have enough.
Q: Did hard drive situation in Thailand have an impact on Mac sales?
A: For the December quarter there was not a material supply or cost impact as a result of the flood. For the March quarter, we're not expecting any material supply impact. We included expected increases in hard drive prices in our guidance.
Q: Saw some price declines in DRAM and NAND flash. How favorable to you expect pricing to be for those commodities in March quarter?
A: We did receive better costs than we had rolled into our guidance last quarter, particularly on NAND flash and DRAM and displays. Those price trends should continue to be favorable this quarter. We reflected that in our guidance. Big exception is the hard drive which is constrained on an industry-wide basis. We can navigate the supply issue by paying more for HD's.
Gross margin will drop next quarter because of a loss of leverage and non-recurrence of one-time items and the stronger US dollar. Two of those items represented a quarter of upside to gross margin. Half from commodity costs and one-quarter from better mix in iPhone sales.
Q: Any impact on iPads from lower priced tablets on the market? How do you feel about the Amazon Fire?
A: We are really happy with 15.4 million iPads, did take down channel inventory slightly so sell-through was slightly higher than that. Consistent with our long-term belief that this is a huge opportunity for Apple over time. I really believe that there will come a day when the tablet market in units is larger than the PC market. It's interesting to note that in the US it's clear from the IDC data on desktop PC's in the US that tablets exceeded desktop sales last quarter in the US.
You can see different indicators that there is significant momentum in the space. The ecosystem for iPad is in a class by itself, we strongly believe in optimizing applications from day one to take advantage of the larger canvas from day-one. Only a few hundred apps designed for the competition versus 170,000 apps for the iPad. Don't see limited function tablets and e-readers in the same category as the iPad. People who want an iPad won't settle for a limited function tablet. Last year was supposed to be the year of the tablet. I think most people would agree it was the year of the iPad for the second year in a row.
We're going to continue to innovate like crazy and we think we can continue to compete with anyone that is currently shipping tablets or that might enter the market in the future.
Q: What are you learning about price elasticity with the iPhone with offering the 3GS for free postpaid and the prepaid market? How are you thinking about that now that you've had a quarter with the lower price points?
A: Each model of iPhone were important in achieving the 37 million total units. We're glad to cover the broad range with great products. The iPhone 4S was clearly the most popular among those. In the postpay market, there is a much smaller difference in what a customer pays than the prepay market. Thrilled with the total result.
Q: You're "actively discussing" the use of cash. Is this the same as the discussion historically, or is this something new?
A: We have always discussed our cash and we recognize that our cash is growing for all the right reasons. I would characterize our discussions as "active" about what makes the most sense to do with the cash balance. We don't have anything specifically to announce today.
Q: Is there a time-frame or will you tell us when you've finished those discussions?
A: We will let you know when we decide something. Until then, we are actively discussing.
Q: Gross margin has been rising from Q1 to Q2 traditionally. Now it's bucking that trend with a drop of 270 basis points. Is the loss of leverage that significant, or what am I missing?
A: Factors that will affect sequential decline are three things: the loss of leverage from revenue -- reported $46.3 billion this quarter with a 14th week. Fixed costs will have some impact, some one-time items that won't repeat, and the strong US dollar will have the biggest affect. 44.7% is the highest gross margin we've ever had, now we have different currency levels and different product cycles from before -- did have a sequential increase in iPhones last year, don't see that happening again this year.
Q: How should we be thinking about your strategy in the living room?
A: Apple TV is doing very well. Last fiscal year we sold a bit above 2.8 million units. In the past quarter, we set a new quarterly record at more than 1.4 million. In the scheme of things, this is still classified as a "hobby". We continue to add things to it, and I don't know about you but I couldn't live without it. We continue to pull the strings and see where it takes us.
Q: You've been CEO for 4 months now. I wonder what your early read on the new job is. Have you come across things that you didn't expect?
A: I love Apple and it's a reminder every day what a privilege it is to work with people who are so incredible. How lucky I am. You can see our results and I think our team is doing a fantastic job.
Q: Some perspective on how you're framing your thoughts about dividends and buybacks?
A: We're examining all possibilities for our cash balance. What we can do from a supply chain or acquisition perspective. I don't have any comment about buybacks or anything. We're actively discussing our cash balance.
Q: Thoughts on iCloud?
A: It's not a product. It's a strategy for the next decade.
Q: Where are you on distribution of the iPhone, in particular China for the next few quarters?
A: 130,000 points of sale throughout the world, up 35% year-over-year. Consistently adding points of distribution. Adding both carriers and key retailers. Added carriers last quarter, adding KDDI in Japan and Sprint in the US. Extremely pleased with both companies. Incumbents did incredibly well, but in terms of China, China Unicom continues to be a key partner. Nothing to announce on expansion there.
Q: Why the steep revenue drop for next quarter?
A: 5 reasons we will be down greater sequentially this quarter. December quarter included a 14th week this year. That week accounted for roughly 1/14th of December's revenue. That week fell within the March quarter last year and will not be included this year. Sales in that week are greater than the average for the March quarter. Last year, we increased iPhone channel inventory by 1.7 million units in the March quarter. December quarter results benefitted from the launch of the iPhone 4S. There was significant pent-up demand and it was our fastest iPhone rollout ever. US dollar has strengthened in recent weeks, particularly against the Euro. Last year the dollar was relatively flat within the time period. We feel very good about the momentum for our business.
Q: Thoughts on acquisitions, in particular Anobit?
A: We aim for smaller or medium-sized companies with engineering or technology or talent or IP. That's the acquisitions that we've done. We tend to do several per year but we're very disciplined.
Q: Can you talk about how they're integrated with the company? Do they become encompassed within Apple or do they remain as standalone divisions?
A: We don't believe in lots of divisions. We run the company as "one" rather than lots of mini-companies. The semiconductor team works for Bob Mansfield who does all the hardware engineering for the company. Bob and his team are integrating Anobit into that team. Anobit has some fantastic technical talent and we're really fortunate to have them join us.
Q: You say you're at 235 carriers, but there are 500 carriers in the world. What is your strategy about adding more of them? And on a country-rollout, you've addressed part of China on the retail side, and Brazil is next. What about addressing India or Russia more aggressively with your retail presence?
A: We're selling in Brazil through carrier partners and online. We're selling in Russia through carrier partners and reseller partners. We're selling in India through carrier partners and reseller partners. I've tried to be clear in the past that we have our time and energy in China at the moment. We're not ignoring others, but we're spending less time in the others. Brazil is the next country, we've begun to go deeper in that country. We don't envision Apple Retail in the near-term. In India, where we're small, revenue was up 3x last quarter but that's on a small base. We're beginning to see traction in most of these countries. We recognize that we have some work to get to a large revenue figure like China is.
Nothing specific to announce on carriers, but you can bet we're looking at the same list you are. For major carriers, the numbers are very small versus the smaller carriers. The same is true of smaller countries but we'd like to get into all of them over time.
Q: iPhone was great, but iPad growth outpaced our expectations too. Do you think Apple benefitted from lower-cost, reduced feature-set tablets? People coming in and saying "well this is OK" but then trading up to the iPad?
A: We've looked at the data on a weekly basis after Amazon launched the Fire. There wasn't an obvious effect on the numbers either plus nor minus. We've heard from customers who looked at the Fire and decided to buy an iPad, but whether that's happening on a large basis, I don't know. Looking at our data in the US, there was no obvious change in the data for what it's worth. There is cannibalization of the Mac by the iPad but we continue to believe there is much more cannibalization of Windows PC's by the iPad and there are many more to cannibalize. We love that trend, we think it's great for us. The thing that's different for the iPad is that you can continue to see it emerging virtually everywhere. Large percentage of the Fortune 500, is still large looking at Global 500. In education and K-12 we sold twice the number of iPads as Macs. Education traditionally adopts technology slowly, so that's surprising. Consumer has adopted the iPad very quickly as well.
It's winning market by market. Consumers that look at it and think about the ecosystem and huge advantages and the overall customer experience, I think we will win a fair number of those. The results speak for themselves. We sold 55 million iPads since April of 2010 when we launched it, which we feel is incredible.
Q: Are you seeing accelerated refresh rates within your customer base? Are customers buying an iPhone faster or buying a MacBook Air faster?
A: iPhone has been a catalyst in enterprise. The iPad follows the iPhone and in some cases the Mac follows that. One product pulls the other, pulls the other, pulls the other. How much it's happening is difficult to put our finger on. Many customers across consumer or education or enterprise are pointing that out. We've seen this before with the halo the iPod created for the Mac back in the 2002-2004 range. It's not a phenomenon that's new to us.
Q: Android vs iPhone, is this becoming a two-horse race like Mac vs Windows? How is your integrated model vs the OEM market like Windows?
A: Don't view it like Mac/Windows. Mac has outgrown the market 20 quarters in a row, but still single digits in worldwide market. In iOS, we've sold 315 million devices and this comparison is very favorable for us. 62 million of those were done in the last quarter alone. I haven't found a way to get very crisp quarterly reporting for Android like we do, that is transparent and reliable. If you look at NPD data, in the US for October/November, just for phones, the iPhone is 43% and Android is 47%. Nielsen data shows iPhone for Oct/Nov/Dec at 45% vs Android at 47%. ComScore data for Oct/Nov with iPhone at 42% vs Android at 41%. All the data in the US shows it is a very close race on iPhone. On iPad side, I think that all of us inherently believe that iPad is way ahead there. There is really no comparable product to the iPod Touch either. iOS is doing extremely well. I wouldn't say it's a two horse race. There's a horse in Redmond that will always get up and keep running and there are other players that we won't count out.
We focus on innovating and making the world's best products and ignore how many horses there are. We just want to stay ahead and be the lead one.
Q: 4G and larger screens are growing in the market. Has popularity of larger screens on Android phones changed or impacted your view? And 4G, obviously some phones have battery life issues, but what do you think?
A: We just sold 37 million iPhones and could have sold more with the supply. There are a lot of people out there who like what we're doing.