iPhone 4S Rollout Continues in China and 21 Other Countries on January 13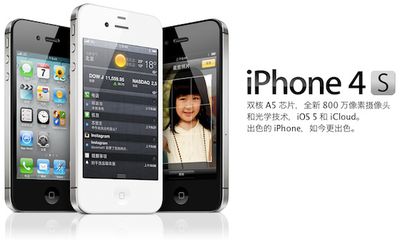 Apple today announced that it will be launching the iPhone 4S in 22 new countries on Friday, January 13, with China being the featured addition for this round of debuts.
"Customer response to our products in China has been off the charts," said Tim Cook, Apple's CEO. "With the launch in China next week, iPhone 4S will be available in over 90 countries making this our fastest iPhone rollout ever."
China Unicom has been the exclusive official iPhone carrier in China, and Apple's press release gives no indication whether the device will be expanded to new carriers there.
The full list of launch countries includes: Anguilla, Antigua and Barbuda, Bolivia, Botswana, British Virgin Islands, Cameroon, Cayman Islands, Central African Republic, China, Dominica, Dominican Republic, Ecuador, Grenada, Guam, Guinea Conakry, Ivory Coast, Jamaica, Kenya, Madagascar, Mali, Mauritius, Niger, Senegal, St. Vincent and The Grenadines, Trinidad and Tobago, Turks and Caicos and Uganda.