Widespread iTunes and iCloud Apple ID "Couldn't be Found" Outage [Fixed?]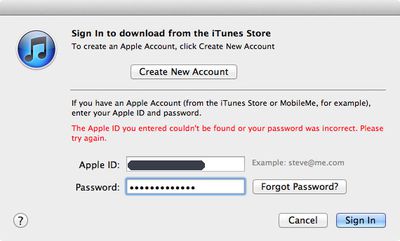 iTunes and iCloud customers trying to log into their accounts early this morning found that their Apple IDs are not working. They were greeted with the following error message:
"The Apple ID you entered couldn't be found or your password was incorrect. Please try again."
A quick search of Twitter shows the problem is widespread, affecting customers all over the world. There are a few scattered reports that some people's Apple IDs seem to be working. Apple's iCloud system status shows no issues at the time of this writing. Trying to change your Apple ID password results in a "Fatal internal error" on Apple's support pages.
Apple ID accounts are required to download apps from iTunes as well as access your iCloud.com data. The wide scale of the problem indicates its a problem with Apple's servers rather than your individual Apple ID account. Apple is likely working to fix the problem.
Update: Many are reporting that Apple IDs are working again.