Android and iOS Now Control Over 80% of Smartphone Sales in U.S.
Market research firm NPD today issued a press release discussing some of the trends in U.S. smartphone sales in 2011 compared to previous years, noting the strong growth in Android and iOS that has led the two platforms to now represent a commanding 80% of the market between them.
"The competitive landscape for smartphones, which has been reshaped by Apple and Google, has ultimately forced every major handset provider through a major transition," said Ross Rubin, executive director, Connected Intelligence for The NPD Group. "For many of them, 2012 will be a critical year in assessing how effective their responses have been."
The dramatic shift in the smartphone platform landscape is illustrated in a comparison chart (via BGR) showing how market shares have changed each year since 2006.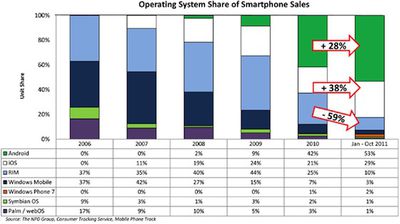 Back in 2006 before the launch of the iPhone, Research in Motion and Windows Mobile were neck-and-neck atop the smartphone market, with each taking 37% of sales. Palm held down third place with 17% of the market. Five years later, each of those platforms (or their successors) have seen their shares shrink dramatically as iOS and Android have grown substantially.
The past year has seen a continuation of the longer-term trend, with Android's market-leading share growing from 42% of the market to 53% and iOS growing from 21% to 29%. Third-place Research in Motion has experienced a remarkable collapse from its position atop the market just two years ago, falling from 44% in 2009 to 25% in 2010 and dropping again to just 10% so far in 2011.