Tweaked Trojan Disables Automatic Updating of OS X Anti-Malware Tools
Last month, we noted as part of a report on an update to the anti-malware tools in OS X that a new trojan horse threat known as Flashback.A had surfaced, with the malware masquerading as a Flash Player installer. While Apple has continued to update its XProtect.plist to detect Flashback.A, security firm F-Secure now reports (via ZDNet) that a revised version of the trojan which disables the auto-updating feature of Apple's anti-malware tools has appeared.
There's something new brewing in Mac malware development (again).

Recent analysis has revealed to us that Trojan-Downloader:OSX/Flashback.C disables the automatic updater component of XProtect, Apple's built-in OS X anti-malware application.
The report walks through how the modified trojan overwrites XProtectUpdater files, preventing infected systems from performing their daily check for updated malware definitions and thus keeping the door open for future attacks.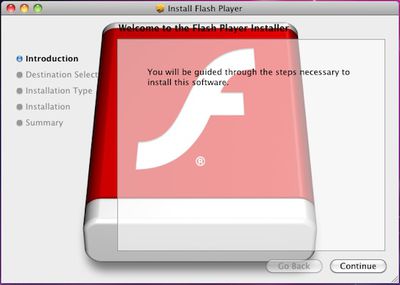 Flashback.C installer
The Flashback.C trojan is capable of connecting to a remote host in order to download and execute further code, but it is unclear what the exploit is being used for at this time. Users are of course advised to download Flash Player and other software from trusted sources so as to avoid infecting their systems with trojans such as Flashback.C.
Update: MacRumors has heard and Sophos has confirmed that Apple had already updated its XProtect.plist entries to detect Flashback.C by the time news of it broke to the public. Consequently, users encountering the malware on Mac OS X Snow Leopard or OS X Lion should be automatically warned of the threat prior to mounting the package.