Survey of Regent Street iPhone 4S Line Reveals Record Crowd and Other Tidbits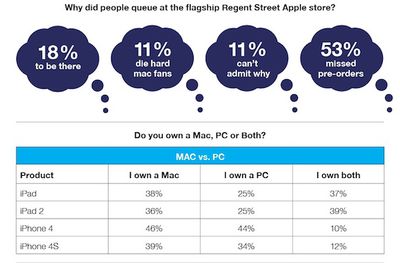 UK insurance firm Protect Your Bubble today conducted a survey of the iPhone 4S line at Apple's Regent Street retail store in London, finding a record line of 778 people just as the store opened for sales.
Analysis of the data, comparing against previous Regent St exit polls on the iPhone 4, iPad and iPad 2 launches, shows that the crowd of 778 people for the iPhone 4S comfortably beats the previous record holder of 668 for the original iPhone 4; 662 for the iPad 2; and 451 for the original iPad.
The company has also put together an infographic highlighting a number of pieces of data collected in surveys of the crowd. Among the most interesting results:
- 53% of those in line were there because they missed the pre-order window, while an additional 7% thought the iPhone 4S was only available in-store. A substantial fraction of the crowd was also there primarily for the experience, with 18% saying that simply wanted "to be there" and 11% noting that they were there because they were "die hard Apple fans".
- Nearly half of the crowd was upgrading from the iPhone 4 to the iPhone 4S, while 35% were lining up to purchase their first iPhone.
- The new 8-megapixel camera was cited most frequently (37%) as the "standout feature" of the iPhone 4S, with Siri (34%) registering in a strong second place. But 33% of the crowd viewed Siri as a gimmick rather than a truly useful feature.