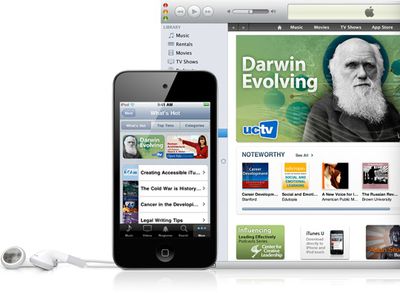 The Loop reports that Apple's iTunes U education portal has topped 600 million downloads since its official launch four years ago. The milestone reveals a significant acceleration in activity, with the service having passed 300 million downloads just a year ago.
According to Apple, iTunes U has had more than 600 million downloads since it first launched in 2007. What's even more impressive is that they've had more than 300 million in the last year alone — a testament to the growing popularity of the service.

Currently, iTunes U boasts more than 1,000 universities with active accounts. Schools contributing to the program range from big to small and include some of the world's most prestigious institutions like Harvard, MIT, Cambridge, Oxford, University of Melbourne and University of Tokyo.
Open University and Stanford University top the list of most popular sources for iTunes U users, with each registering over 30 million downloads. iTunes U is available in 123 countries, with 30% of traffic reportedly coming from iOS devices.