Apple Targets New York City Stores Selling Counterfeit Apple Products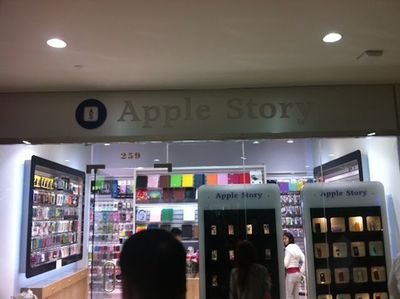 "Apple Story" in Flushing, Queens (Source: Greg Autry via BirdAbroad)
Reuters reports
on a lawsuit filed by Apple against a pair of stores in New York City for their sale of unauthorized counterfeit Apple products. The trademark infringement suit was filed last month but has remained sealed until now in order to facilitate seizure of the counterfeit items from the two stores in the Chinatown section of Flushing in Queens.
According to a court filing from Apple, the company sent representatives to Apple Story and Fun Zone in Flushing on "multiple occasions over several weeks," where they bought an assortment of iPod, iPhone and iPad cases, as well as stereo headsets designed for use with iPhones.

All of the purchased goods carried an Apple trademark, according to the amended complaint. They were also marked with the phrase "Designed by Apple in California. Assembled in China," and included markings similar to those found on genuine Apple goods.

The headsets came with packaging that was "nearly an exact duplicate" of that for genuine Apple goods, the lawsuit said.
Apple was granted a warrant to seize the counterfeit products on July 27th, and the courts have granted a preliminary injunction barring the two stores from selling the knockoff products. Apple has also requested that one of the stores, Apple Story, change its name in order to prevent confusion with Apple's own stores and branding, but the court has yet to rule on that issue. A settlement between Apple and the stores' owners is said to be under negotiation.
Apple's case appears to extend beyond the two stores, however, as the lawsuit seeks to include people and businesses engaged in the production, sale, and distribution of the products, although those defendants have yet to be identified.