iMovie '08 Was Originally Called 'First Cut', Ubillos on Final Cut Pro X
In a lengthy article on DVCreators.net, Josh Mellicker revisits the Final Cut Pro X complaints and what Apple might have to do to address its limitations. The full article may be of interest to video editing professionals.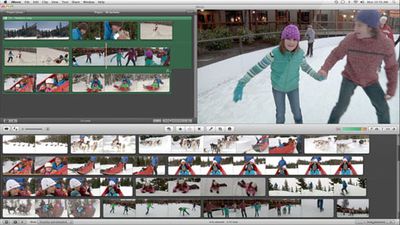 For the rest of us, the most interesting part of the article was a reference to how Apple's Chief Architect of Video Applications Randy Ubillos had originally created an application called "First Cut" which later evolved into iMovie '08. iMovie '08 was met with similarly mixed reactions due to the complete overhaul over iMovie 6.
Steve Jobs told the story when he originally introduced iMovie during a keynote in August 2007, but left out some details. According to Mellicker, Ubillos returned from vacation and found that Final Cut wasn't ideal for organizing raw footage. From that experience, First Cut was born which would let you import your raw footage and quickly skip through, organizing and building a rough edit. The intention originally was to then export to Final Cut Pro. At some point, Apple officially latched onto the project and turned it into the new iMovie '08.
Ubillos was the creator of the first three versions of Adobe Premiere and later developed KeyGrip which was sold to Apple and released as Final Cut Pro. Ubillos continues to be the Chief Architect of Video Applications at Apple.
With the release of Final Cut Pro X, Ubillos has been answering emails and told one of our readers "I'm extremely proud of Final Cut Pro X, it's a huge step forward in digital storytelling." He went on to say suggest if the user gave it a fair shot, they may be pleasantly surprised. Ubillos also write "Final Cut Pro X 1.0 is the beginning of a road, not the end."