Apple's Tim Cook Spotted at China Mobile's Headquarters?
M.I.C gadget notes that a reporter from Chinese newspaper First Financial Daily reported seeing Apple Chief Operating Officer Tim Cook in the lobby of China Mobile's headquarters earlier today. According to the reporter, who was also able to snap a photo of Cook although it only shows him from the rear:
This morning, around 10, Apple COO Tim Cook is spotted in the lobby of China Mobile's HQ, accompanied by 7-8 people. Probably Cook is talking with executives from China Mobile to discuss bilateral cooperation for the iPhone. Both China and America flags are seen in the lobby, and Cook seems to be happy.
China Mobile is far and away the world's largest mobile phone carrier with over 600 million customers, making it a major potential partner for Apple. The carrier has long been interested in offering the iPhone, but Apple has so far been unwilling to build customized hardware capable of running on China Mobile's homegrown TD-SCDMA network standard.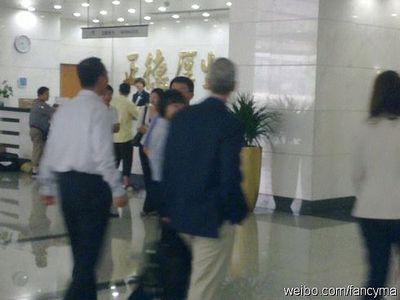 Reports last month indicated that Apple and China Mobile had reached or were nearing an agreement that would see a future iPhone developed for the carrier's TD-LTE 4G network. Reports have indicated that the same chips could be used for both LTE and TD-LTE, meaning that Apple could conceivably release a future iPhone capable of running on either standard. Complicating the issue, however, is a lack of full LTE coverage looking out over the next several years, and the consequent difficulties of providing fallback 3G compatibility for different standards.
If Cook is indeed in China talking to executives at China Mobile, it seems likely that significant discussions are underway. While any negotiations of this size would likely take place at the senior executive level, Cook's role as Chief Operating Officer currently in charge of Apple's day-to-day operations in the absence of Steve Jobs would suggest that his direct involvement signals negotiations of the highest importance.