Amazon Hits iTunes Again With $0.99 Lady Gaga Album, Qualifies for Cloud Drive Storage Upgrade
Last month, Amazon rolled out a promotion highlighting 69-cent new release tracks in its MP3 download store, an apparent effort to draw market share from Apple in the digital download market that has long been dominated by the iTunes Store. The pricing significantly undercuts Apple's own pricing, which typically comes in at $1.29 for popular new tracks.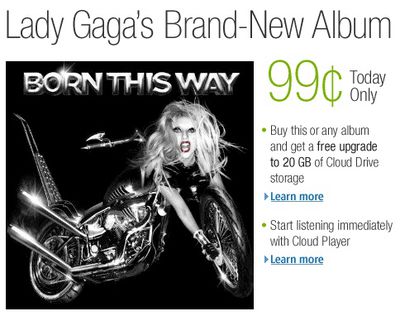 Amazon has made another push today with a "Daily Deal" offering the new Lady Gaga album, "Born This Way", for only $0.99 through the Amazon MP3 Store. The special price is available for today only and compares to the $11.99 price point for the standard album in the iTunes Store, where an expanded edition is also available for $15.99.


Aside from Amazon's bargain basement pricing on what is expected to be a top-selling new release, the company is also using it as an opportunity to promote its new cloud-based storage service that will also be going up against Apple when it rolls out its own service in the near future. As noted on the Amazon MP3 Store and in promotional emails sent to some of its customers, purchase of the new Lady Gaga album, as with any other album, qualifies users for free upgrades to the 20 GB tier on Amazon Cloud Drive.
Amazon Cloud Drive offers 5 GB of storage space for free, with content purchased through the Amazon MP3 Store not counting toward that limit. The 20 GB tier is normally priced at $20 per year, but customers who purchase an album through the Amazon MP3 Store receive a free one-year upgrade to that level. Consequently, customers who do not have any interest in the Lady Gaga album may still opt to purchase the new release simply to receive the Amazon Cloud Drive storage upgrade for only 99 cents.