Smartphone Platforms Continue to Grab Share of Portable Gaming Market
Last December, we reported on survey results showing that users of portable games are increasingly defecting from dedicated devices such as the Nintendo DS and Sony PSP to smartphones such as the iPhone.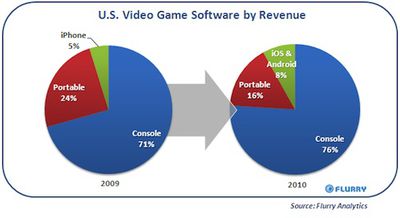 New data
from analytics firm Flurry comparing overall video game market share in 2009 and 2010 reveals a similar trend, with iOS and Android combining to take 8% of the overall market and a full 34% of the portable gaming market as measure by revenue. In the overall market, console games continue to dominate, growing from 71% to 76% on only a slight increase in total video game revenue.
From 2009 to 2010, iOS and Android game sales increased from 5% to 8% market share within the U.S. video game market. Specifically, we estimate that iOS and Android game revenue increased from $500 million in 2009 to more $800 million in 2010. Of this, the significant majority of revenue was generated by iPhone games.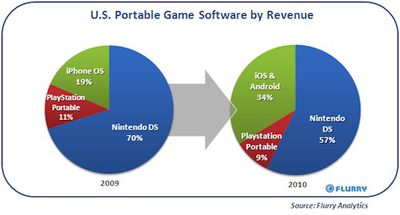 But setting aside the console market, the success of iOS and Android (primarily iOS according to Flurry's data) as gaming platforms is more obvious in the portable market, where the smartphone platforms have increased their share of revenue from 19% in 2009 to 34% in 2010 at the expense of Nintendo's and Sony's offerings.
From 2009 to 2010, iOS and Android game sales have spiked significantly, resulting in nearly a doubling of their market share. With both Nintendo DS and Sony PlayStation Portable shrinking in sales, while smart-device game sales simultaneously grew by more than 60%, iOS and Android games now represent more than one third of the portable game category.
It is also important to note that the surge in revenue share for smartphone platforms comes at a significantly lower average price point than for dedicated devices, meaning that even the strong growth from those platforms has eaten into the total portable gaming market, which dropped from $2.7 billion in 2009 to $2.4 billion in 2010. The "race to the bottom" has long been one of the main concerns for smartphone application developers, particularly traditional game developers who have been accustomed to the pricing model for dedicated gaming devices. But users are clearly shifting toward more casual gaming at lower price points on their smartphones, and developers that have embraced that market are in many cases seeing solid results.