Google Launches Cloud Print for iOS Devices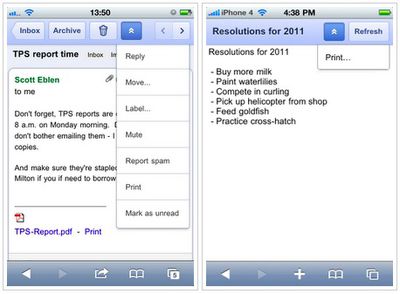 Google today
announced
the launch of new support for the company's
Cloud Print
service on mobile devices such as those running iOS 3.0 or later. The service allows users to print documents and emails directly from Gmail's mobile interface.
Imagine printing an important document from your smartphone on the way to work and finding the printout waiting for you when you walk in the door. Just open a document in Google Docs or an email in Gmail in your mobile browser and choose "Print" from the dropdown menu in the top right corner. You can also print certain kinds of email attachments (such as .pdf or .doc) by clicking the "Print" link that appears next to them.
The feature is rolling out today and tomorrow for English-speaking users in the United States.
The one catch to the functionality is that in order to configure printers for use with the Google Cloud Print service, users must connect their printer to a PC running Windows 7, Vista, or XP and the latest version of Google Chrome. Google promises that support for the feature through Mac and Linux computers is "coming soon".
Apple is of course working on its own wireless printing technology, AirPrint, for iOS devices. But while AirPrint can offer support across a broad array of applications, it does require that the iOS device and printer be located on the same wireless network, whereas Google Cloud Print can enable printing to anywhere.