Apple Surpasses $300 Billion in Market Capitalization
On the first trading day of 2011, Apple's stock has jumped to a new high and broken through yet another psychological milestone by pushing past $300 billion in market capitalization. AAPL stock currently sits at nearly $330 per share with a market cap of over $302 billion.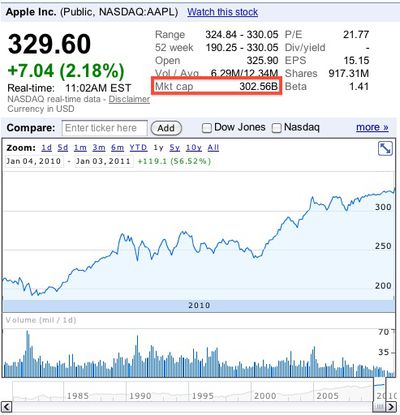 Apple set a series of market cap milestones last year,
passing $200 billion
in early March,
leapfrogging Wal-Mart
just a few days later, and
passing Microsoft
in late May to become the second largest U.S. company by market capitalization behind Exxon Mobil. Apple continues to trail Exxon Mobil, which also had a strong performance in the latter half of 2010 and currently sits at a market cap of about $368 billion.