iPad Now Available in AT&T and Verizon Retail Stores
Following the announcement earlier this month that AT&T and Verizon would begin offering the iPad in their retail stores, both wireless carriers have followed through and launched the device on schedule today.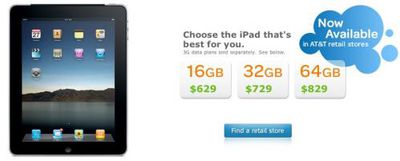 AT&T
is offering only the three Wi-Fi + 3G models, priced at Apple's standard $629/$729/$829. The company also continues to offer its two no-contract monthly data plans at 250 MB ($14.99) and 2 GB ($25.00). Monthly international data plans are also available for those traveling outside of the United States, although at significantly higher prices than domestic data.

For its part,
Verizon
is offering the the Wi-Fi-only iPad models, promoting bundles with the carrier's MiFi mobile hotspot for $629.99/$729.99/$829.99, effectively offering an over-50% discount on the MiFi's standard no-contract price of $269.99. No-contract monthly data plans for the iPad/MiFi bundle are offered at 1 GB ($20), 3 GB ($35), 5 GB ($50) and 10 GB ($80). The carrier is also offering unbundled Wi-Fi iPads for $499.99/$599.99/$699.99.