Apple Tops Microsoft in Third Quarter Revenue
Back in late May, Apple passed Microsoft to become the second-largest U.S. company as measured by market capitalization. Just a few months later, Apple has reached another milestone lined to its longtime rival: For the first time in nearly 15 years, Apple has brought in more quarterly revenue than Microsoft, as Apple's $20.34 billion quarter announced last week topped that of Microsoft, which today reported revenue of $16.20 billion for the third calendar quarter of 2010.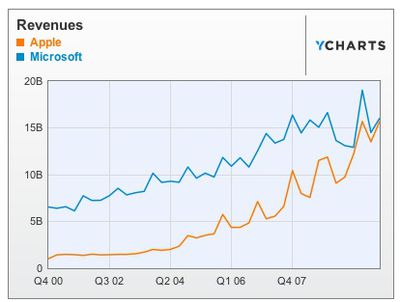 Comparison of AAPL and MSFT quarterly revenues for Q4 2000 - Q2 2010 (Source: YCharts)
While revenue is only one measure of the size of a company and Microsoft's high profit margins achievable through its primary focus on software mean that it still generates more profit than Apple, today's news offers yet another sign of Apple's resurgence over the past decade.