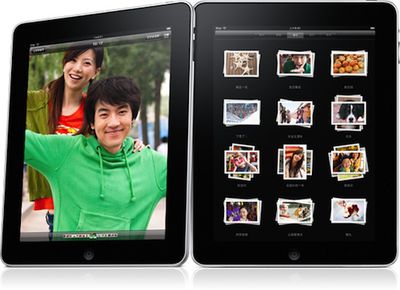 AFP reports
that a Chinese firm has accused Apple of trademark infringement for its use of the "iPad" name in that country, seeking up to $800 million to settle the dispute.
Proview Technology Co, Ltd, which is based in the southern city of Shenzhen, registered the iPad trademark in January 2000 and still owns the rights to its use in China, the Beijing News said, citing government archives.
Apple started selling its sleek iPad tablet computer in China last month, after months of grey-market action among avid buyers unwilling to wait for the official launch.
Reports indicate that Proview has demanded that Apple immediately cease its infringement and enter into fresh negotiations for the rights to use the "iPad" name in China. The two companies apparently held earlier talks regarding the trademark, but were unable to reach an agreement. Apple also brought Proview to court back in May in order to prevent the company from transferring the trademark rights to third parties.