Early Benchmarks on the New 13-Inch and 11-Inch MacBook Air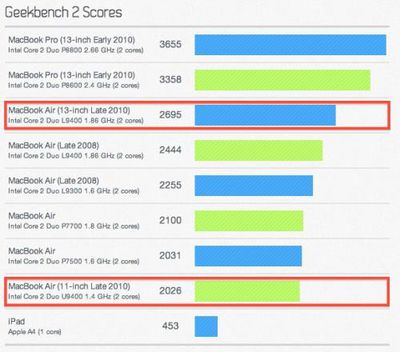 Primate Labs
publishes
initial benchmarks for Apple's new 13-inch and 11-inch MacBook Air, comparing the new models to earlier generations of the MacBook Air, the current 13-inch MacBook Pro, and the iPad.
There are two ways you can look at the new 11-inch MacBook Air; it's either a much smaller but slower MacBook Pro, or a much faster but larger iPad. The 11-inch MacBook Air is small enough that I'd consider bringing it instead of an iPad, but I'd worry it's not fast enough (or have enough screen space) to be my primary laptop.
The 13-inch MacBook Air is a much more straightforward produc; it has 80% of the processor performance of the latest 13-inch Pro, making it an acceptable substitute for users looking for a slightly more portable Pro.
The report emphasizes, however, that Geekbench only measures processor and memory performance, leaving out what is expected to be significant overall performance improvements over earlier generations due to the use of the NVIDIA GeForce 320M video card and flash storage across all models.