Profile of Foxconn's Founder Addresses Relationship With Apple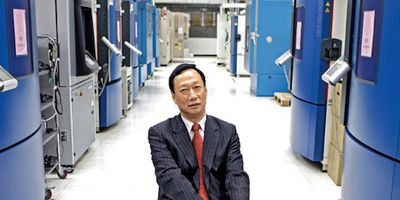 Bloomberg Businessweek
publishes a
lengthy profile
of Foxconn founder Terry Gou, who has built his Taiwan-based manufacturing company into a major player in the computing and consumer electronics industries and become Apple's primary manufacturing partner for a broad array of its devices. The interesting profile comes as part of Foxconn's public relations effort to share the steps it has taken to deal with
recent suicides
and claims of worker discontent at the 900,000-employee company.
As it relates to Apple, the article addresses how Gou is willing to go to extreme lengths to produce quality parts for Apple's devices, even going so far as to spend in excess of $20 million to mass produce the iPhone 4's metal frame on machines meant only for creating prototypes. As a result of this commitment, Foxconn has been able to produce 137,000 iPhones per day while meeting Apple's design demands.
When Apple's iPhone4 was nearing production, Foxconn and Apple discovered that the metal frame was so specialized that it could be made only by an expensive, low-volume machine usually reserved for prototypes. Apple's designers wouldn't budge on their specs, so Gou ordered more than 1,000 of the $20,000 machines from Tokyo-based Fanuc. Most companies have just one. "Terry is a strong leader with a passion for excellence," says Tim Cook, Apple's chief operating officer. "He's a trusted partner and we are fortunate to work with him." The Longhua plant now produces 137,000 iPhones a day, or about 90 a minute.
The report balances a description of Gou's personal life and dedication to quality with his demanding reputation, noting that he "exhibits severity and kindness in the extreme." Building Foxconn from a minor parts manufacturing company selling channel knobs for black-and-white TVs to television manufacturers, Gou has aggressively expanded his capabilities over time to constantly win market share and customers while also working to secure its intellectual property in the face of stiff competition in the Asian electronics manufacturing industry.
Gou notes that he failed to handle the suicide issues well, not realizing that he had a problem on his hands until the crisis had begun to spiral out of control. The company has taken steps to address workers' health and happiness with new activities and support channels and has undertaken a major effort to build new factories closer to workers' native homes to keep them closer to their family networks. The effort will also allow Foxconn to do away with its "compounds" where employees live and work, offering them a degree of separation from work when they go home to housing and entertainment options provided by local governments rather than the company itself.
The report concludes by noting that Gou remains ambitious in his expansion plans, hoping to target the U.S. to expand production there beyond the current 1,000-employee facility outside Houston. Regardless of its future expansion plans, Foxconn appears to be maintaining a close relationship with Apple and is likely to continue being a major piece of Apple's manufacturing pipeline.