Mac Government and Enterprise Sales Leap in 2Q 2010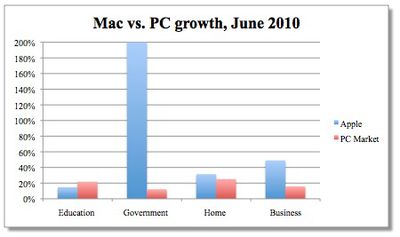 Fortune reports
on a new research note from Needham analyst Charlie Wolf breaking down Apple's Mac sales by market segment for the second calendar quarter of 2010 and comparing that performance to the PC industry's as a whole. While Wolf found strong across-the-board growth for Apple, the company saw its strongest performance in government and business sales, where it far outpaced overall industry growth.
Among his findings:
- At 35%, Mac shipment growth in June easily exceeded the market's growth rate of 20.9%.
- Mac shipments grew 31.4% in the home market, topping the market's growth rate of 25.2%.
- At 49.8%, the Mac's growth in business was three times higher than the market's 15.7%.
- Mac shipments in government grew 200%, sixteen times faster than the market's 12.1%.
In the business market, Wolf revealed Apple's strongest growth occurring among larger companies, with "large" and "very large" businesses seeing on the order of 100% growth, presumably on a year-over-year basis.

In one final note, Wolf highlights Apple's growth in Europe, where strong iPhone adoption has created a halo effect that has helped Apple's unit share of the PC market to double and its revenue share to triple over the past six years, with most of that growth occurring over the last 2-3 years.