Verizon to Offer Live TV Streaming to iPad, Limited to Local Wi-Fi Networks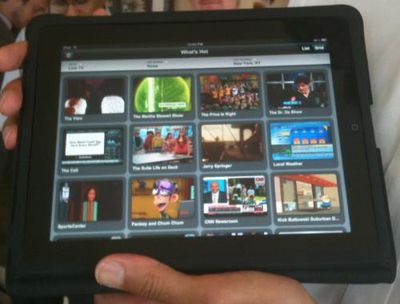 NewTeeVee reports
that Verizon has announced plans for an iPad application that will allow subscribers to its FiOS television and Internet service to stream live television on their iPads. While availability will at least initially be limited to connecting via Wi-Fi to the customer's home Internet connection, the plans show the willingness of cable companies to embrace alternative viewing options beyond the fixed-location television set.
Verizon unveiled a series of new video applications today, including an upcoming iPad app that will allow FiOS subscribers to watch the same linear programming that is available on their TV screens on their tablet devices. The new app is expected to be rolled out early next year and Verizon expects to have all of its content partners on board by the time the app launches.
According to the report, the technology behind the streaming application is fully developed, and Verizon is now working with content providers to make sure that they are on board with the plans. Verizon is not expecting any difficulties with providers, as the service would simply treat the iPad as another television in the customer's home and be covered under existing contracts with the content providers.