Elgato's EyeTV HD Brings High-Definition TV to Mac, Streams to iPhone and iPad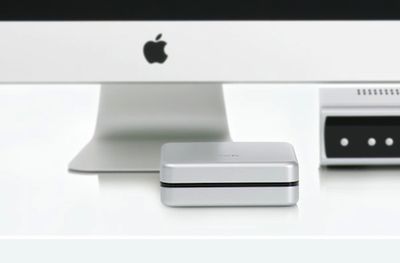 Elgato today
announced
the launch of its new
EyeTV HD
for Mac, offering users the ability to bring high-definition TV content to their Mac and stream it to iPhone OS devices using the
dedicated App Store app
.
Today, Elgato debuted the world's only DVR solution which provides full access to premium cable or satellite TV content on a Mac - EyeTV HD. Customers can now watch record, edit and enjoy cable and satellite in high-definition, including all their premium channels. EyeTV HD includes a unique dual-format capture mode that records in iPad and iPhone formats at the same time, allowing users to stream live and recorded TV to an iPhone or iPad using the optional EyeTV app.
EyeTV HD offers easy setup, simply requiring the user to connect the device to his or her cable box via component cables and Mac via USB. Simple configuration of an IR blaster for channel changing then brings the user's complete TV package onto their Mac, where Elgato's EyeTV 3 software handles navigation, editing, export, and streaming of content.

EyeTV HD also offers S-video and composite inputs to allow users to connect standard-definition sources such as VCRs and camcorders to video import and manipulation.
EyeTV HD sells for $199.95 with one free year of TV Guide service. Renewal service is available for $19.95 per year. Streaming to the iPhone or iPad requires the company's EyeTV App Store application, priced at $4.99.