Make Your Own (Paper) iPad and iPad Sighting at NYC Starbucks
While the iPad was officially announced in January, the iPad will not be available for purchase until late March. However, it seems some iPads have been seeded into the wild as David Vogler claims to have seen one in a New York City Starbucks (photo).
If you're having trouble waiting for the iPad to arrive, Jess Silverstone, the lead artist for Revolutionary Concepts put together a cut-out of the Apple iPad that you can print yourself.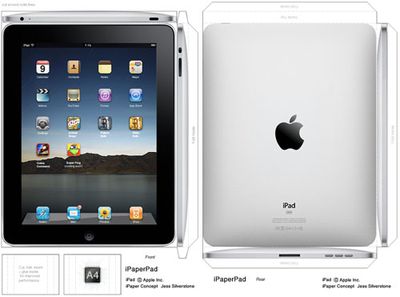 The cutout is provided in two separate PNG files (
iPad Front 664KB
and
iPad Rear 377KB
). Each cutout can fit on standard A4 (8.3 x 11.7 inches) paper, but your printer has to be capable of borderless printing to achieve close to actual iPad dimensions. The real iPad dimensions are 9.56 inches x 7.47 inches x 0.5 inches. They've even included a cutout of the A4 processor you can include for "improved performance".
Here's what it looks like put together:

Meanwhile, if you actually have access to a large format A3 printer, a Taiwanese blogger has
put together
a PDF that will print to full size.