'Dragon Dictation' Brings Voice Transcription to the iPhone [Updated]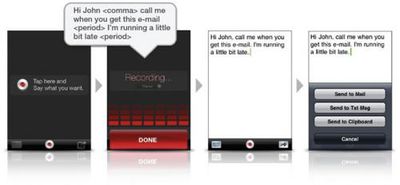 Nuance Communications today
announced
the release of
Dragon Dictation
[
App Store
, Free for a limited time], a new voice transcription application for the iPhone. The application, which relies on the Dragon NaturallySpeaking speech recognition engine to transcribe voice input to text, allows users to easily send transcribed text to new e-mail or text messages or save it to the clipboard for pasting into other applications.
With the Dragon Dictation App, spoken words are instantly transcribed using the world-renowned power of Dragon NaturallySpeaking speech recognition, giving anyone the power to simply "say anything" up to five times faster than typing. Dragon Dictation allows users to speak anything from a one-line text message or status update for Facebook, to a multi-paragraph e-mail. For instance, simply say, "We should meet at the restaurant at 7 and then go to the movies. I'll pick up Scott in Cupertino after he gets off work. See you then." Users can start and stop as needed or just speak free form to capture a quick brainstorm idea or reminder. It's completely up to you.
The application works by transmitting spoken input to Nuance's central servers, where it is processed by the transcription algorithms and returned to the user's device. Consequently, the application does requires a data connection in order to function.
The application offers editing options including alternative suggestions for misinterpreted phrases and built-in keyboard functionality for manual editing of text. The application also offers voice corrections, allowing users to highlight a selected portion of text and replace it with newly-spoken phrases.
Several users have noted a potential privacy issue with Dragon Dictation, however, with a number of iTunes Store user reviews noting that the license agreement for the application reveals that data from users' lists of contacts will be sent to Nuance and stored on its servers.
Dragon Dictation is free for a limited time, and Nuance will in the near future be releasing Dragon Search, a second iPhone application allowing users to conduct voice searches of a number of sources including search engines, YouTube, Twitter, iTunes, and Wikipedia.
Update: Nuance has responded to the privacy concerns, noting that the use of users' contacts is limited to only names and is used to aid in transcribing those names when spoken.
As you may have experienced already, Dragon Dictation for the iPhone goes through your contact list on your iPhone and uploads the names to our server. We do this for a pretty simple reason: we found that people are often dictating names from their address book and expect the names to be recognized. We take this information and create an anonymous user profile for your device that understands what names are likely to dictate into a document. It's important to note that we only upload the names, not the e-mail addresses, phone numbers or any other personally identifying information from your contacts.