Apple Retail Stores Roll Out 'Reserve and Pick Up' Purchasing for Holiday Season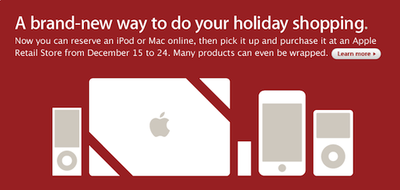 Apple has rolled out a new
Reserve and Pick Up
purchasing program for its retail stores, allowing customers to select and reserve products for later in-store purchase and pick up ahead of the holidays.
With Reserve and Pick Up, you can make sure the top things on your list are definitely under the tree. Reserve an iPod or Mac online today and it will be waiting for you to pick up and purchase at an Apple Retail Store from December 15 to 24. You can even have many products wrapped. It's just another way we make it even easier to get through the holiday crowds -- and your gift list.
The program looks to streamline the purchasing process for those who reserve hardware ahead of time and ensures that customers won't face out-of-stock issues encountered when attempting to purchase on the spot. The program also offers gift wrapping in the company's "signature gift box" for an additional $5.00 charge for iPods and notebook computers. The program is currently featured prominently on the company's retail store sites in the US, UK, and Australia, and also appears to be available in Canada.