Apple Stock Hits All-Time High on Earnings Strength
Apple's stock price has hit an all-time high today, surging over 4% at the moment to top $207 per share. The peak eclipses Apple's previous high set in late December 2007. Apple's stock subsequently sank to a low of under $80 per share in late 2008 amid uncertain economic times before rebounding strongly over the past eight months.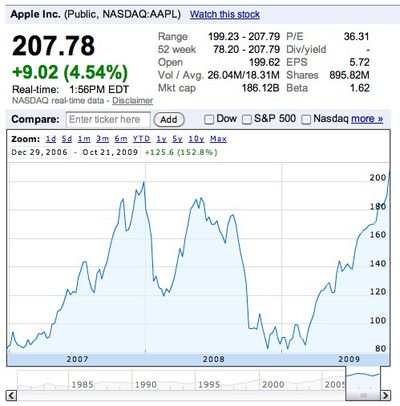 Apple's total market capitalization is currently approximately $186 billion, placing the company behind only Exxon Mobil, Microsoft, and Wal-Mart in market cap rankings of American companies.
Apple's stock has seen a significant bump over the past couple of days in the wake of a stellar earnings report on Monday and subsequent price target upgrades from analysts looking ahead to future performance.