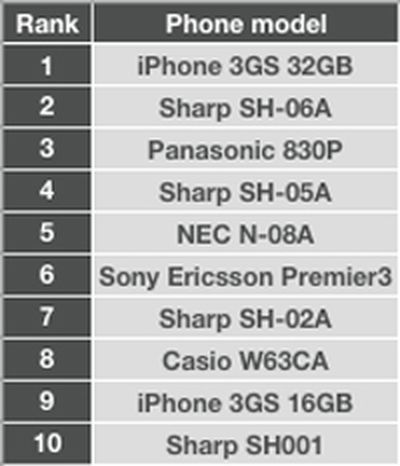 Image from Electronista
Electronista reports
on data from marketing research firm
GfK Japan
placing the 32 GB iPhone 3GS ranking as the top selling mobile phone in Japan for the month of July. The 16 GB iPhone 3GS model claimed the ninth spot in the rankings. As the report notes, the achievement is particularly notable given the difficulties foreign phones typically have in penetrating the Japanese market.
Making the top of the chart is a potential watershed for American phones in the country as a whole. While the iPhone 3G also saw strong sales in the country when it launched over a year ago on SoftBank and hurt rival carriers like KDDI and NTT DoCoMo, it struggled to unseat locally-made handsets. The Japanese market is known to be too insular and often excludes foreign phones in favor of domestics that are complicated but support many Japan-specific features like 1Seg digital TV broadcasts or FeliCa wireless payments.
The iPhone 3GS launched in Japan on June 26th.