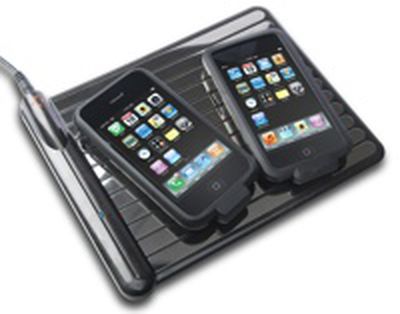 A company called WildCharge yesterday announced that it is set to begin offering the first wireless charging cases for the iPhone and iPod touch. This allows the devices to be charged by simply placing them on a special charging pad without the need for any cables. The iPod touch skin is available for order immediately, while the iPhone skin, compatible with all iPhone models, will be available starting in early July.
The WildCharge Skins are durable, protective, form-fitting cases that when placed on the WildCharger Pad, transfer wire-free power from the Pad to the device inside the skin. The soft cases provide the same protection consumers already enjoy from traditional skins, but have the added value and convenience of enabling a wire-free charge. The WildCharger Pad, used in conjunction with the skins, delivers full power to multiple devices, allowing them to simultaneously charge together on the Pad while eliminating the clutter caused by multiple chargers and power cords.
Wireless induction charging has seen increased attention in recent months with the deployment of Palm's Touchstone system for use with the new Palm Pre. Palm's $70 Touchstone system includes both a charging dock and a separate back case for the Pre that is required to allow it to charge wirelessly.
Both WildCharge skins are individually priced at $34.99, or $79.99 for a bundle including both the WildCharge skin and the WildCharger Pad. The WildCharger Pad can also be purchased separately for $49.99.
Update: WildCharge's solution is not induction-based.