4GB iPhone with Video iChat?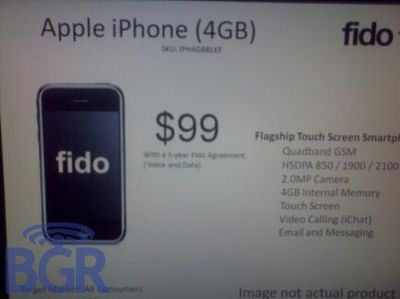 Not actual 4GB iPhone pictured.
The possibility of an iPhone with video conferencing is one that people love talking about. Unfortunately, very few reliable rumors have actually suggested that this is a likely feature in the next generation iPhone.
BoyGeniusReport continues
this theme with their leak of mobile carrier Fido's 2009 roadmap which they are "very far away from being able to confirm". The documents seem to picture a 4GB iPhone with a feature list that includes iChat Video Calling:
The most notable slide has to do with a 4GB iPhone 3G. While there is a huge disclaimer that the image isnt the device itself, the slide depicts a 4GB iPhone model that will run for $99 and come with quad-band EDGE, tri-band HSDPA, a 2 megapixel shooter and, believe it or not, iChat video calling (oh hi, front-facing camera).
The site is uncertain about the authenticity of the image but it takes on some more significance given today's report from Engadget that the iPhone will come in 4GB to 32GB sizes.