Official Skype App is Now Available in the App Store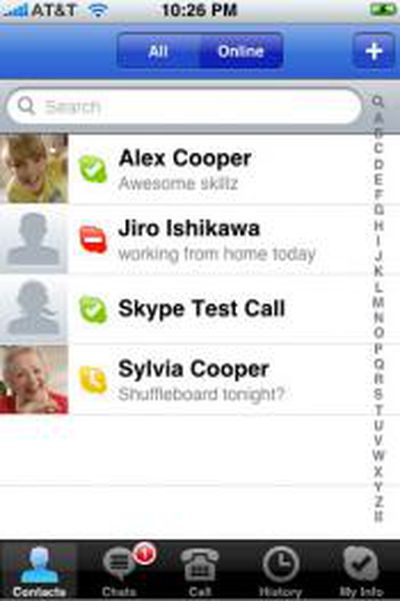 Skype, Inc. has just released their official Skype application for the iPhone and iPod touch.
Skype is a very popular voice-over-IP (VOIP) and instant messaging application that allows you to make phone calls over the internet. Calls can be made to other Skype users or to those with regular landline phones. CNet spent some time with the release version of the iPhone app:
Skype's screens are well organized and use the iPhone's ability to add filters, for instance, to sort your contacts alphabetically, or by who's online. There's chatting as well, though Skype's flagship feature is its VoIP calling that's free to other Skype users and an inexpensive per-minute fee to landlines. Calls on Skype for iPhone work only if you're in range of a Wi-Fi network, so your call quality will in part be at the mercy and strength of wireless networks nearby--calls will not work over the cell phone network on the iPhone (but chatting will.)
As restricted by Apple, the voice-over-IP phone calls will only work over Wi-Fi and not over the cellular connection. iPod Touch owners with a microphone can also take advantage of the VOIP calling.
App Store Link: Skype, Free