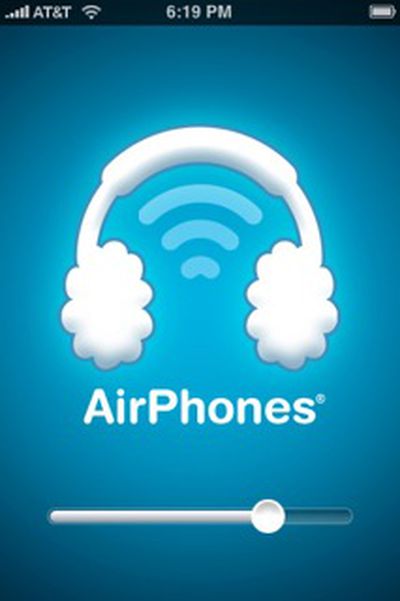 Wired reports on AirPhones [App Store], a new utility that allows the iPhone/iPod touch to serve as wireless headphones, accepting streaming audio content from a computer on the same local Wi-Fi network. The utility requires that a free partner server application, currently available only for Intel Macs but coming soon for PPC Macs and Windows, be installed on the computer broadcasting the audio.
After purchasing and installing the app, you have to download a free server application that runs on your Mac desktop (this server component is currently only available Intel Macs). Your iPhone and your Mac need to be connected to the same wireless network, and there is a slight but of latency -- somewhere around a quarter of a second audio delay between your Mac and your iPhone.
In their testing, Wired found "great, not perfect" sound quality, although they did experience occasional stuttering.
In our tests, the app encountered only a few problems. There's the occasional stutter, especially if you walk into a dead spot and the app is forced to reconnect to your Mac. Sometimes, the only way to get it to stop stuttering is to walk back to your desktop and bring up the preferences pane for the server, which lives in the menu bar at the top of your screen. Doing this resets the connection.
AirPhones, which appeared in the App Store on February 19th, has seen several price changes in the few days it has been available, currently settling at $4.99.