First 24" LED Cinema Displays Arrive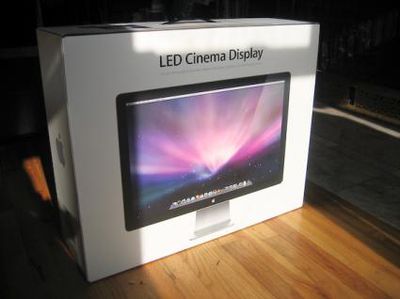 Image from Arstechnica
Arstechnica provides
some first impressions on their newly delivered 24" LED Apple Cinema display. While Apple introduced the new display back in October, actual delivery of the new monitors have only just begun. Ars reminds readers that the displays are only meant for use with the new notebooks which house a mini DisplayPort. Apple has said they will start shipping the mini-DisplayPort on all future products.
The display contains an iSight camera, built-in speakers, and a USB hub. This configuration allows the Monitor to act as a very simple dock for your laptop, as it will enable/disable functionality appropriately:
The real nicety of the display is that Mac OS X knows when you have attached the display to use its integrated devices. That is, when you've hooked it all up, it will use the iSight in the display instead of the notebook's, and it will use the USB audio on the display and disable the output on the notebook. That is, until you plug a set of headphones into the port on the notebook, at which time the display's speakers will disable and route the audio directly to your ears automatically.