Apple Announces New MacBook Pros, Updates MacBook Air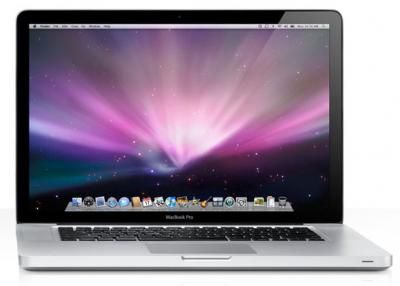 At their Notebook Media event today, Apple
announced
new 15" MacBook Pros with improved graphics performance, and glass Multi-Touch trackpads.
Starting at $1,999, the MacBook Pro uses the latest Intel Core 2 Duo processors available, running up to 2.8 GHz, and a new graphics architecture that allows users to switch between the NVIDIA GeForce 9400M integrated graphics processor for better battery life and the powerful NVIDIA GeForce 9600M GT discrete graphics processor for higher performance.
Features include:
- Unibody enclosure
- Mini DisplayPort for Video out
- Two NVIDIA graphics chipsets: 9400M and 9600M GT
- Instant-on LED-backlit displays
- Glass Multi-Touch trackpad with new Multi-Touch gestures
- User accessible hard drive
The new MacBook Pros will provide the following price points:
- $1999. 15.4" Glossy Display, 2.4GHz, 2GB RAM, NVIDIA 9400M + 9600M, 250GB HD.
- $2499. 15.4" Glossy Display, 2.53GHz, 4GB RAM, NVIDIA 9400M + 9600M, 320GB HD.
More details available at http://www.apple.com/macbookpro/. The new MacBook Pro is available immediately.
Apple also provided a quiet update to the 17" MacBook Pro:
The updated 17-inch MacBook Pro keeps its original aluminum design, and now comes standard with a high resolution 1920 x 1200 LED-backlit display and a larger 320GB hard drive or an optional 128GB solid state drive.
And also upgraded some of the features of the MacBook Air:
MacBook Air, measuring only 0.16-inches at its thinnest point, 0.76-inches at its maximum height and weighing just three pounds, now includes new NVIDIA GeForce 9400M integrated graphics and a faster architecture to provide robust support for 3D games and enhanced performance. Starting at $1,799, MacBook Air is available with a 120GB 4200 rpm hard drive, a 50 percent increase from the previous generation, or a new 128GB solid state drive.
Photos and Updates
- Photos of MacBook Pro removable hard drive and battery
- MacBook Pro photos/hands on: one, two
- Glass Trackpad impressions: "You'll never accidentally click it while moving your fingers around the trackpad to navigate across your computer. It's resistant enough to not click while you're using it for tracking, but easy enough to click while deliberately clicking."