Banners Up for Apple's Let's Rock Media Event on September 9th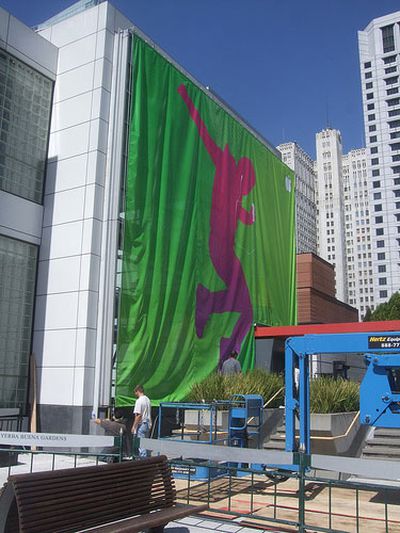 Andrew Mager
has
posted
(via
iPhoneSavior
) an image from outside the Yerba Buena Center in San Francisco where Apple will hold its "Let's Rock" media event on September 9th, 2008.
The large multi-story banner shows one of Apple's iPod silhouette ads clearly suggesting a major iPod-related event. Persistent rumors have predicted that Apple will introduce a tall iPod Nano, a new iPod Touch, as well as iTunes 8. There are also suggestions that Apple could introduce the 2.1 iPhone firmware with some previously unannounced features.
A few last minute tidbits:
- We've heard a few more reports of Apple telling reporters that this event will be a "big deal" and urging them to come. While it's hard to read too much into this sort of hype, it does not appear to be typical practice for Apple.
- DaringFireball suggests that there will be iPhone news at the event.
- While we won't be providing live web coverage, we will offer links to all available coverage as well as SMS updates via Twitter.
- The event will take place on September 9th, 2008 at 10 a.m. Pacific, 1 p.m. Eastern.