Apple Announces iPhone 3G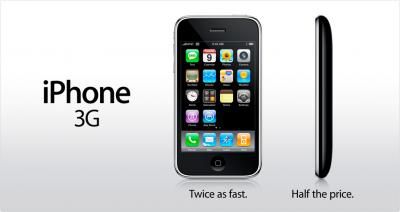 After months of anticipation, the heavily rumored
3G iPhone
was
announced
today during Apple's Worldwide Developers Conference Keynote.
"Just one year after launching the iPhone, were launching the new iPhone 3G that is twice as fast at half the price," said Steve Jobs, Apples CEO. "iPhone 3G supports Microsoft Exchange ActiveSync right out of the box, runs the incredible third party apps created with the iPhone SDK, and will be available in more than 70 countries around the world this year."
Features
- 3G-capable. 2.8 times faster than EDGE.
- Simultaneous voice and data conections
- Microsoft Exchange AcctiveSync
- GPS built-in
- Better battery life - 300 hours of standby, Talk-time 10 hours (as opposed to 5) on 2G networks, 5 hours of 3G talk-time (competition is 3 hour 3G talk time), 5 to 6 hours of high-speed browsing, 7 hours of video, 24 hours of audio.
- flush headphone jack
Pricing and Availability
The iPhone 3G will be available July 11th in 22 countries for $199 for 8 GB and $299 for 16 GB. The 16 GB model also comes in white. Apple has posted details on their website, but it is currently overwhelmed.
Thanks to our MacRumorsLive sponsors: MacHeist, Awaken, Crush FTP/Crush Sync, iPhoneRingToneMaker, StevenPriceProductions.