Macworld Expo 2008 Keynote Live Coverage: Web, SMS, iPhone
With Macworld San Francisco Expo less than a week away, MacRumors is gearing up to travel to San Francisco to cover the event with our traditional MacRumorsLive keynote coverage as well as expanded floor coverage at https://www.macrumors.com/mwsf/.
The Keynote will take place at 9am Pacific on Tuesday, January 15th, 2008. We will be providing live coverage with the following methods:
Web
MacRumorsLive.com will provide near real-time text and photo updates. This year, we've added the option to open images in a separate window, which will give you luxurious 640x480 sized images.
iPhone and iPod Touch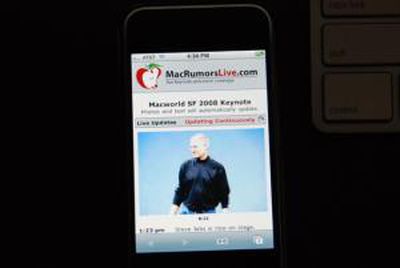 iPhone and Touch owners should also point their browsers on January 15th to MacRumorsLive.com for a specially formatted version of our coverage (will be active closer to event). Text and photo updates will be pushed to your device.
SMS (Twitter) Updates
For those without web access during the event, we offer live SMS messaging to your mobile phone. There will be 5-15 text updates during the keynote. Standard text messaging charges apply. (SMS Signup Instructions)
Spoiler Free
And a reminder for those who want to watch the keynote video without any prior knowledge of the events, we offer a Spoiler Free page / mailing list which will notify you when the keynote video is available. Anyone seriously interested in this option should not sign up for the SMS list above, as they will broadcast announcements as they come in.
Ongoing MWSF Coverage
We will continue to cover major news items and releases on MacRumors.com, but this year we will provide additional photos and news items from Macworld at https://www.macrumors.com/mwsf/ (RSS).