Photos of WWDC 2007 Banners at Moscone West
RoughlyDrafted has posted the first photographs of banners that have been setup at Moscone West in San Francisco for WWDC 2007.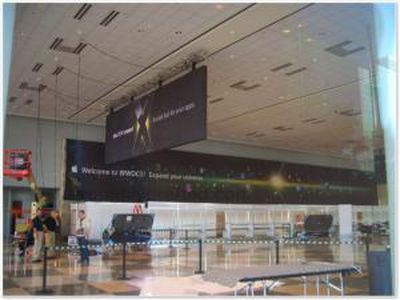 Outside Moscone West
Leopard: Rocket fuel for your apps baner
Large X / Time Machine banner
Expand your universe banner
WWDC 2007 kicks off on Monday, June 11, 2007. Full details about Leopard are expected to be released at the keynote speech to be given by Steve Jobs.
MacRumors will be providing live text and photo coverage of the keynote speech at MacRumorsLive. No live video feed will be available during keynote, but Apple typically posts the keynote in Quicktime a few hours after the end of the event.