New iPod Game 'iQuiz' Coming
Electronista notes that some eagle-eyed French iTunes users have spotted the brief appearance of a new iPod game dubbed "iQuiz" on the iTunes Store.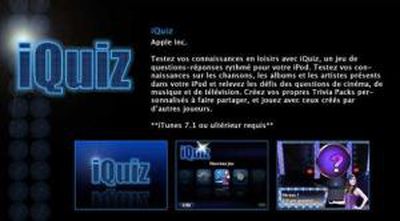 "Test your entertainment knowledge with iQuiz, a timed question-and-answer game for your iPod," it reads. "Test your knowledge of the songs, artists and albums present on your iPod and take on the challenges of questions about movies, music and television. Create your own personalized Trivia Packs and play those created by others."
Apple currently includes a more basic quiz game with its iPod and iPod Nanos.