Apple One Day Sale for Europe and Australia
Apple has posted one day sales on their Australia, UK Store, France, Sweden, Switzerland French, Switzerland German, Italy, Austrian, Belgium Flemish, Belgium French, Denmark, Finland, Germany, Ireland, Netherlands, Norway, and Spain stores online:
Don't miss our special one-day shopping event. Friday, December 1st.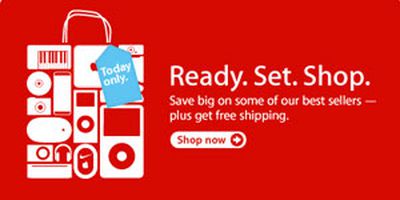 Apple is recycling the same Ready. Set. Shop graphic as well as the similar deals
offered to U.S. customers
on the day after Thanksgiving.