iPad mini
Updated Retina mini coming this fall with Touch ID.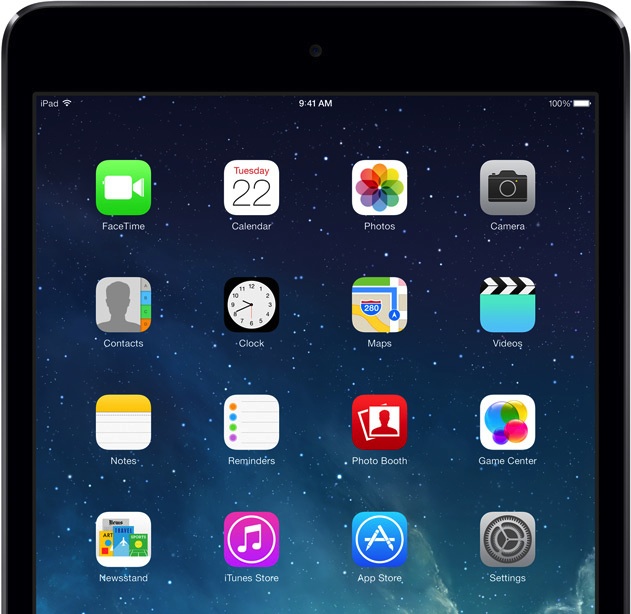 At a Glance
Apple is expected to launch a second-generation Retina iPad mini with Touch ID and processor improvements later this year.
Current Specs
7.9-inch Retina display
A7 processor
iOS 8
Slightly thicker form factor
5-megapixel camera
16-128 GB capacities
Priced from $399
What We Expect
While KGI Securities analyst Ming-Chi Kuo initially predicted Apple would not launch an updated Retina iPad mini in 2014, he reversed course and now expects Apple to release an upgraded version of the tablet with the same form factor, an A8 processor, and a Touch ID fingerprint sensor.
Hints of Touch ID support for the iPad were also recently found within the code for iOS 7, further suggesting the next-generation iPad mini with Retina display will include a Touch ID fingerprint sensor. According to a recent report, TSMC is already shipping Apple's suppliers Touch ID fingerprint sensors for inclusion in the second-generation Retina iPad mini, the iPad Air, and the iPhone 6. The iPad mini's fingerprint sensor may be even more durable than the sensor used in the iPhone 5s, thanks to the use of tin.
A highly questionable report has suggested the next-generation iPad mini will be an "Air"-like model with a design that shaves 30 percent off the thickness of the device. A rumor has pointed towards the use of a new anti-reflective coating in the iPad Air, and it is possible that the Retina iPad mini 2 will get the same coating, which is designed to cut down on glare in bright conditions.
Aside from Touch ID support, KGI Securities analyst Ming Chi Kuo believes the second-generation Retina iPad mini will not receive other updates, due to its position as Apple's less popular tablet.
Most rumors have suggested the Retina iPad mini update will likely come during the third quarter of 2014, possibly in October. A recent rumor from the Asian supply chain has indicated, however, that the Retina iPad mini may not be updated alongside the iPad Air, with an update coming instead in early 2015.
Current Version
At its October 22 media event, Apple introduced its second-generation iPad mini, bringing a new Retina display as well as upgraded internals including the A7 chip and M7 motion coprocessor introduced in the iPhone 5s.
The improvements to the iPad mini have necessitated a slight increase in thickness and weight for the iPad mini, with the device now measuring at 7.5 mm thick and 0.73 pounds compared to 7.2 millimeters and 0.68 pounds for the original generation.
With a Retina display, the new iPad mini's resolution has increased from 1024 x 768 to 2048 x 1536, matching the resolution of the full-size iPad but with the smaller screen pushing the pixel density to the same 324 pixels-per-inch seen on Apple's iPhone and iPod touch models.

The iPad mini with Retina display became available for purchase on 12:01 AM on November 12, 2013. Capacities range from 16 GB up to a new 128 GB option, with all models available in both Wi-Fi and Wi-Fi + Cellular versions and in silver/white and space gray/black color options. Pricing has increased from the previous generation, now starting at $399 for the 16 GB Wi-Fi model and adding $100 for each capacity increment and $130 for cellular connectivity.
The non-Retina iPad mini remains available in a single configuration of 16 GB in both silver/white and space gray/black color options. Pricing has dropped by $30 over the original pricing, with the Wi-Fi model coming in at $299 and the Wi-Fi + Cellular model priced at $429.
Initial Impressions
Following Apple's October 22 announcements, press attending the event were given a chance to look at the new Retina iPad mini. Initial impressions were positive, noting that the device felt similar to the previous iPad mini despite its small increases in weight and thickness.
According to The Verge, the Retina iPad mini was noticeably faster and smoother, with sharper, more readable text, and CNET thought it looked better than its larger counterpart, the iPad Air.
Performance
According to Geekbench 3 benchmarks, the Retina iPad mini is running at 1.3Ghz, similar to the iPhone 5s. The Retina mini scored a 1390 on the single-core test and a 2512 on the multi-core test, which is an incredible boost in performance over the original mini's score of 261/493.

The Retina iPad mini is, in fact, is 400% faster than the original iPad mini, though it is not quite as fast as the iPad Air, which clocked in at 1466/2856.
Known Issues
There have been a few reports of a limited number of Retina iPad minis displaying image retention issues. Image retention is not noticeable in regular use, but a grid test can be used to detect a possible problem.
Some Retina iPad mini users have noted that the tablet has a poor color gamut in comparison to the iPad Air. According to AnandTech, the Retina iPad mini has the same color gamut as the standard iPad mini, which is indeed narrower than the iPad Air.
Surprise Release
On the evening of November 11, 2013, MacRumors received a tip that Apple's GDX website for service providers was listing a November 12 launch date for the Retina iPad mini.
While the launch date initially appeared to be a mistake, as it was already November 12 in a number of countries around the world, Apple Online Stores went down at approximately 9 PM Pacific Time, suggesting that a launch was indeed imminent.
At 12:01 AM Pacific Time, Apple Stores began coming back online, with the Retina iPad mini available for purchase.
How to Buy
Apple's Retina iPad mini can be purchased from the online Apple Store or at Apple retail locations beginning at $399, with higher prices for cellular capabilities and storage increases.
On May 28, Apple introduced educational pricing for the Retina iPad mini, dropping the entry level price to $379 in its education store.