---

This Product Has Been Announced: Apple Announces New 7.9-Inch iPad Mini

---
What We Expect
Apple is holding a media event on October 23 where we expect the company to release a new "iPad mini". The name may or may not be exactly that, but it does seems certain Apple will be introducing a smaller iPad at that time.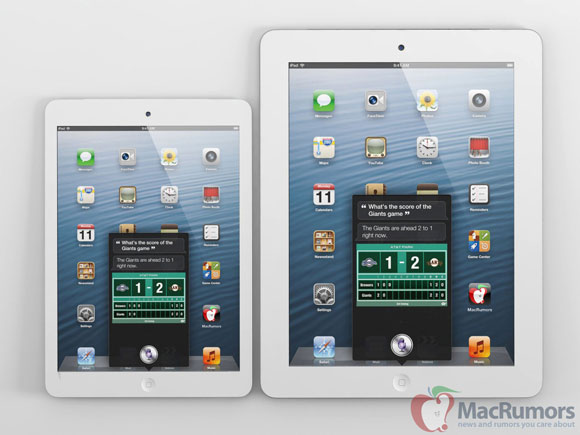 Size comparison mockup of iPad mini (left) vs regular iPad (right)
The iPad mini will have a 7.85" (diagonal) screen as compared to the 9.7" screen of the full-sized iPad. The smaller iPad will also have a narrower bezel on the left and right to help reduce the overall physical size of the device. That will make the device more "purse-able" and put it head-to-head with 7" tablets such as the Amazon Kindle Fire.
In anticipation of those comparisons, Apple is expected to focus on iBooks during its October 23 media event.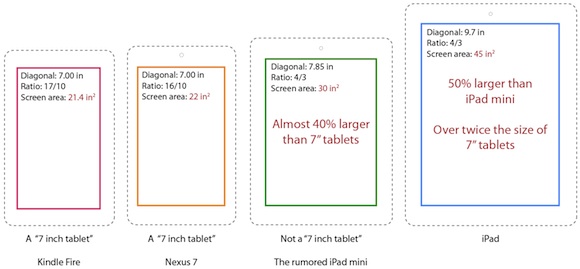 Comparison of Kindle Fire, Nexus 7, iPad mini and iPad screen sizes.
Internally, the iPad mini is believed to be built using the same components as last year's iPad 2. That means the same CPU (A5), same RAM (512 MB) and same GPU. It also means the screen is not expected to be a "Retina" display. Instead, it will be same 1024x768 resolution as the iPad 2 -- though at a higher pixel density due to the smaller screen.
The iPad mini has already gone into mass production and could be available as early as November 2.
Pricing appears set to start at roughly $329 for the entry-level Wi-Fi model, with two higher-capacity models coming in $100 increments above that base price. Three cellular-capable models will also be available at $130 premiums over the corresponding Wi-Fi models. Early part number leaks indicate that beyond these various capacity and connectivity options, each iPad mini model will be available two colors, most likely black and white.
In More Detail
Steve Jobs' Objections
In the early lead-up to the iPad mini, many pointed to Steve Jobs' 2010 criticism of 7-inch tablets. Jobs called them "dead on arrival" and complained that the screens were too small and that the iPad's 10-inch screen was the minimum necessary
Apple Senior Vice President Eddy Cue, however became convinced in January 2011 that there was a 7-inch market and that Apple "should do one". This was after Cue found email, books Facebook and video "very compelling" on a 7" device.
Jobs reportedly was won over by Cue's arguments.
Why 7.85"?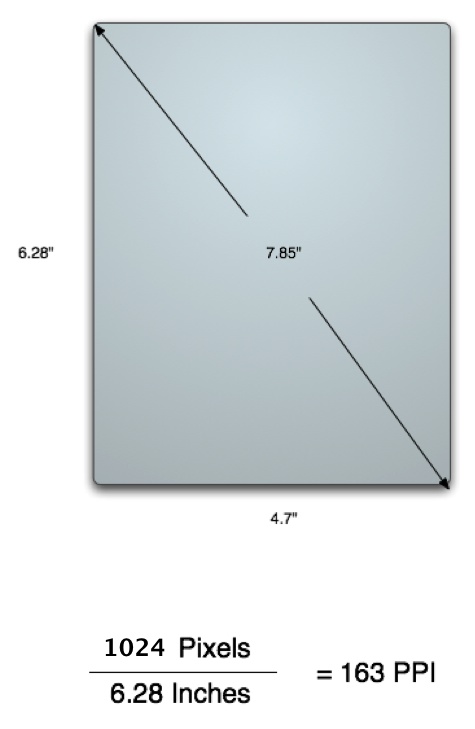 The reason why Apple would choose 7.85" as a screen size is actually somewhat fascinating. Apple makes very deliberate choices about the screen sizes of its mobile devices in order to minimize fragmentation and to provide developers with a relatively easy upgrade path
We've already gone into technical detail about why a 7.85" iPad mini makes sense.
In short, the math works out where a 7.85" iPad mini shares the exact same size of user interface elements as the iPhone. What this means is that an existing iPad app designed for a 9.7" screen should work fine on a 7.85" screen without any further modification.
Of course, there may be edge cases, but this decision should allow the vast majority of iPad apps to run unaltered on the iPad mini.
Discuss
Discuss and ask questions about the iPad mini in our iPad forums. This document will be continuously updated to take into account new rumors.