macOS 10.15
Apple's next-generation macOS operating system, preview expected in June.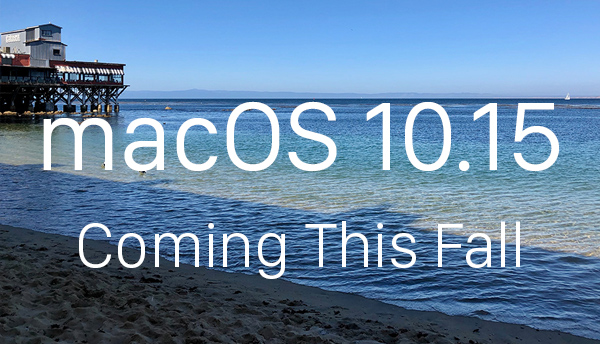 At a Glance
Expected to debut at WWDC in June, macOS 10.15 is Apple's next operating system for the Mac lineup. Rumored features include cross-platform app support for third-party apps.
Expected Features
Cross-platform app compatibility
iPad as a second display functionality
New Music, Podcasts, and Books apps
Window snapping
Siri Shortcuts
What We Expect
The next major update to Apple's macOS operating system, macOS 10.15, is already in development at Apple's headquarters in Cupertino, California. We don't know much about macOS 10.15 at this early point in time, but we've heard a few intriguing rumors that reveal some details about the upcoming update.
Cross-Platform Apps
Apple is working on a new universal apps feature, which first debuted in macOS Mojave and iOS 12, and will expand to developers in iOS 13 and macOS 10.15. To test the feature, Apple ported several iOS apps, including Home, Stocks, and Voice Memos, to macOS in macOS Mojave.
According to Bloomberg, Apple plans to release the first part of the iOS to Mac SDK in iOS 13 and macOS 10.15. Developers will be able to port iPad apps to the Mac this year.
After that, in 2020, Apple will work on allowing iPhone apps to be ported over to the Mac, and by 2021, the company's goal is to allow developers to create a single app for multiple plaforms. Apple's multi-step multi-year initiative is known as "Marzipan" internally.
Apple's ultimate aim with Marzipan is to let developers design a single app that works with either a touchscreen or a mouse and trackpad based on whether it's running on iOS or macOS. This universal app feature would likely significantly increase the number of apps available on Macs while also cutting down on developer workload to create cross-platform apps.
iOS apps ported over to the Mac will be able to take advantage of Mac-specific features like the Touch Bar and keyboard shortcuts along with support for multiple windows. Adding Mac support to an existing iOS app will be as simple as checking a checkbox in Xcode.
New Music, Podcasts, and Books Apps
Apple is planning to planning to introduce new Music, Podcasts, and Books apps in macOS 10.15 as part of its cross-platform apps initiative. These new apps will be available alongside a new TV app designed for the Mac, which Apple has confirmed is in the works and has said will be available in the fall.

The apps will be similar to their iOS counterparts, built using Apple's Marzipan developer tools. Podcasts, TV, and Music will be new apps, while the Books app will be redesigned to better resemble the Apple News app on the Mac.
These new apps will mean iTunes will no longer be the go to place for accessing media on the Mac, but the iTunes app is expected to stick around because it is still used for things like syncing iPhone, iPad, and iPod touch devices to the desktop.
iPad apps that run on the Mac using Marzipan will gain support for Dark Mode thanks to the addition of Dark Mode in iOS 13, and Apple is implementing a new design for the Reminders app, which will also extend to iOS 13.
iPad as an External Display
macOS 10.15 will feature an option to send any app to an external display, including connected monitors or even an iPad. The functionality will be available through a menu that can be opened by hovering over the green maximize icon on any Mac app.
Options will be available for opening the app on the external display, making windows full screen, and tiling windows. On an iPad that supports Apple Pencil, users will be able to draw with the Pencil while the iPad is serving as an external display, turning the iPad into a Wacom-style tablet.
Window Snapping
Apple is also planning to add a feature that will let windows be snapped to one side of the screen.
No More 32-Bit Apps
Apple began issuing warnings about 32-bit apps in macOS Mojave, and has said that Mojave will be the last version of macOS to support them. Apple is expected to phase out support for 32-bit apps in macOS 10.15, which means some older apps that haven't been updated in awhile will cease to work.
New Find My iPhone App
Apple is working on a new app that combines Find My Friends and Find My Phone into one, which could potentially debut in iOS 13 and macOS 10.15. The app will include a new "find network" feature for allowing Apple devices to be tracked even when not connected to Wi-Fi or a cellular network by leveraging other nearby devices.
The app will include existing Find My iPhone features like Lost Mode and an option to remotely wipe a device. Location-based sharing options pulled from Find My Friends will also still be available.
Apple is also said to be working on a related hardware product, described as a Tile-like item tracker. It has been described as a "tag" that can attach to any item and paired to a user's iCloud account. It will rely on proximity to the iPhone, with users receiving an alert when their device gets too far from the tagged item. There is no word on when Apple might debut this accessory, but it could come in the fall alongside new iPhones.
Siri Shortcuts
Rumors suggest the Siri Shortcuts app that was introduced in iOS 12 will be added to macOS in macOS 10.15. Shortcuts allows for multi-step automations that simplify tasks. Siri Shortcuts can be activated with a Siri command or in the Siri Shortcuts app.
iMessage Effects and Screen Time
Two iOS features, iMessage Screen Effects and Screen Time, are said to be coming to the Mac in macOS 10.15. Screen Time is designed to let you know how much time you're spending within apps and on the web, and on the Mac, it'll let you know how you're spending your time. It will also include features for limiting time spent in certain categories of apps along with parental controls.
As for Screen Effects, in the Messages app on Mac you'll be able to see full screen effects like Echo, Balloons, Confetti, lasers, and more. Right now, these are limited to iOS.
Apple Watch Authentication
The Apple Watch can be used to unlock most modern Macs in lieu of a password, and in macOS 10.15, this functionality could be enhanced to allow the Apple Watch to serve as an authentication method for other operations on the Mac.
Full details on what this might entail are not available, but it could allow the watch to be used instead of entering passwords or confirming payments, similar to Touch ID on Touch ID-enabled Macs.
Little else is known about the update at this time, but additional details are likely to be shared as we get closer to the 2019 Worldwide Developers Conference where Apple will preview updates to iOS, macOS, tvOS, and watchOS.
Note:
See an error in this roundup or want to offer feedback?
Send us an email here
.
Prospective Names
Starting in 2016, Apple did away with the traditional "OS X" naming system in favor of "macOS," a name that better fits in with iOS, tvOS, and watchOS. "macOS" will continue to be used in 2019, and the update is also likely to continue to have a name that represents a California landmark.
Apple has been naming its operating system updates after various locations in California since 2013, and so far, we've had Mavericks, Yosemite, El Capitan, Sierra, High Sierra, and Mojave.
There's no word yet on what the next version of macOS will be called, but in 2014, Apple trademarked a long list of landmark names that could be used for future OS X updates. Names range from popular beaches to well-known cities to notable mountains and deserts. Apple even included a few names highlighting iconic California animals, including Condor, Grizzly, and Redtail.
Here's the full list of known trademarked names that have yet to be used: Redwood, Mammoth, California, Big Sur, Pacific, Diablo, Miramar, Rincon, Redtail, Condor, Grizzly, Farallon, Tiburon, Monterey, Skyline, Shasta, Sequoia, Ventura, and Sonoma.

Monterey, California
Apple may be choosing names from the list randomly, but with a water name and six land-based names having been used in 2013, 2014, 2015, 2016, 2017, and 2018, we may potentially be due for another water-based name.
If that's the case, ocean oriented names like Pacific, Monterey, Farallon, or Rincon could be in the running, but it is not clear if Apple is following any kind of specific naming scheme. It's also possible that Apple will deviate from its trademarked list of California-related names to choose something else.
Discuss macOS 10.15
Have features that you're hoping to see Apple introduce in the next-generation version of macOS? Make sure to check out our forums where our readers often discuss upcoming software updates ahead of their debut.
Release Date
We expect to see a preview of macOS 10.15 at the 2019 Worldwide Developers Conference, which will be held from June 3 to June 7 in 2019.
macOS 10.15 will likely be introduced at a keynote event during the Worldwide Developers Conference, with Apple then providing the new software update to developers for testing purposes. Later in the summer, Apple will also offer the update to its public beta testers.
An official public release of macOS 10.15 is likely to come in the fall of 2019 following several months of beta testing and software updates.

April2019
January2019
December2018
April2018