macOS 10.14
The next-generation version of Apple's macOS operating system.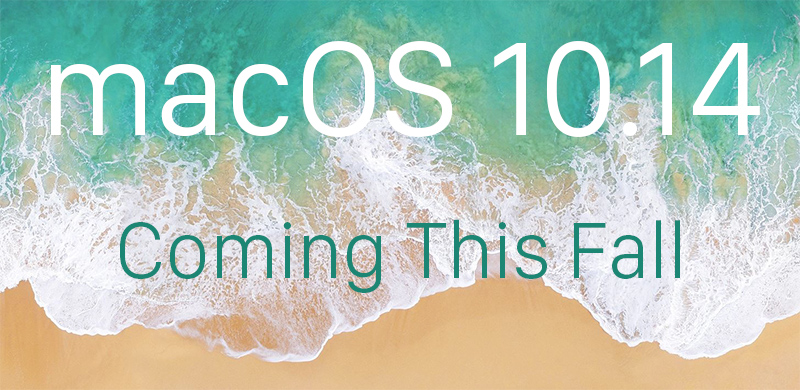 At a Glance
Apple will preview macOS 10.14 at its annual Worldwide Developers Conference ahead of a public debut in the fall. The update may introduce cross-platform Mac and iOS apps.
Rumored Features
Universal apps that work on iOS and Mac
Performance improvements
June preview
Fall launch
What We Expect
The next major update to Apple's macOS operating system, macOS 10.14, is already in development at Apple's headquarters in Cupertino, California.
We don't know much about macOS 10.14 at this early point in time, but we've heard a few intriguing rumors that reveal some details about the upcoming update.
Bloomberg has suggested that Apple is working on a new universal apps feature for both macOS 10.14 and iOS 12 that will allow developers to create apps that work across iPhone, iPad, and Mac.
Apple's aim is to let developers design a single app that works with either a touchscreen or a mouse and trackpad based on whether it's running on iOS or macOS. Such a universal app feature would likely greatly increase the number of apps available on Macs while also cutting down on developer workload to create cross-platform apps.

Cross-platform apps for iOS devices and Macs may also allow Apple to bring some of its dedicated iOS apps to the Mac, such as the Home app for controlling HomeKit apps.
With iOS 12, Apple has opted to delay some planned features until 2019 in order to focus on performance improvements, bug fixes, and other under-the-hood operations, and this decision will also impact macOS 10.14 development, though to a lesser degree.
Little else is known about the update at this time, but additional details are likely to be shared as we get closer to the 2018 Worldwide Developers Conference where Apple will preview updates to iOS, macOS, tvOS, and watchOS.
Prospective Name
Starting in 2016, Apple did away with the traditional "OS X" naming system in favor of "macOS," a name that better fits in with iOS, tvOS, and watchOS. macOS will continue to be used in 2017, and the update is also likely to continue to have a name that represents a California landmark.
Apple has been naming its operating system updates after various locations in California since 2009, and so far, we've had Mavericks, Yosemite, El Capitan, Sierra, and High Sierra.
There's no word yet on what the next version of macOS will be called, but in 2014, Apple trademarked a long list of landmark names that could be used for future OS X updates. Names range from popular beaches to well-known cities to notable mountains and deserts. Apple even included a few names highlighting iconic California animals, including Condor, Grizzly, and Redtail.

Monterey, California
Here's the full list of known trademarked names that have yet to be used: Redwood, Mammoth, California, Big Sur, Pacific, Diablo, Miramar, Rincon, Redtail, Condor, Grizzly, Farallon, Tiburon, Monterey, Skyline, Shasta, Mojave, Sequoia, Ventura, and Sonoma.
Apple may be choosing names from the list randomly, but with a water name and four land-based names having been used in 2013, 2014, 2015, 2016, and 2017, we may potentially be due for another water-based name.
If that's the case, ocean oriented names like Pacific, Monterey, Farallon, or Rincon could be in the running, but it is not clear if Apple is following any kind of specific naming scheme. It's also possible that as with High Sierra, Apple will deviate from its trademarked list of California-related names.
Discuss macOS 10.14
Have features that you're hoping to see Apple introduce in the next-generation version of macOS? Make sure to check out our forums where our readers often discuss upcoming software updates ahead of their debut.
Release Date
We expect to see a preview of macOS 10.14 at the 2018 Worldwide Developers Conference, which has historically been held in June. We don't know this year's exact dates, but Apple is likely to share information about WWDC 2018 over the course of the next couple of months.
macOS 10.14 will be introduced at a keynote event during the Worldwide Developers Conference, with Apple then providing the new software update to developers for testing purposes.
A public release of macOS 10.14 will come in the fall of 2018 following several months of beta testing and software updates.
March2018

January2018
December2017