In macOS, transparency – or more properly, translucency – is a visual effect many apps use to create a sense of depth by hinting at content residing in the background.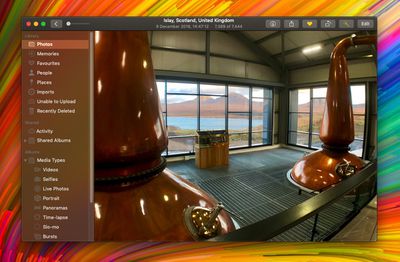 An example of transparency is when content behind a window shows through in interface elements like menus and sidebars. It's evident in the screenshot above, for example, in which the colors of the desktop wallpaper bleed through the sidebar in the Photos app.
A similar effect is sometimes used within app interface elements that are windowed, allowing window content to show through other elements like toolbars. An instance of this can be seen below, where the folders are visible through Finder's toolbar as if through frosted glass.

Transparency enabled (left); transparency disabled
The effect can look cool, but it can also be distracting if you're trying to focus on content, especially if you're editing photos. Fortunately, macOS lets you turn off transparency, but the way to do it isn't immediately obvious. The following steps show you how.
How to Disable Transparency in macOS Mojave
Launch System Preferences from your Mac's Dock, from the Applications folder, or from the Apple menu bar ( -> System Preferences...).


Select the Accessibility preference pane.
In the sidebar, under Vision, click Display.


Check the box next to Reduce transparency.