Apple in 2017 changed the method to force restart or hard reset an iPhone 8 or iPhone 8 Plus.
While
rebooting an iPhone 7 or iPhone 7 Plus
requires pressing and holding both the Sleep/Wake and Volume Down buttons for at least 10 seconds until the Apple logo appears, restarting an iPhone 8 or iPhone 8 Plus is a three step process that involves the Volume Up button, the Volume Down button, and the Side button on the device.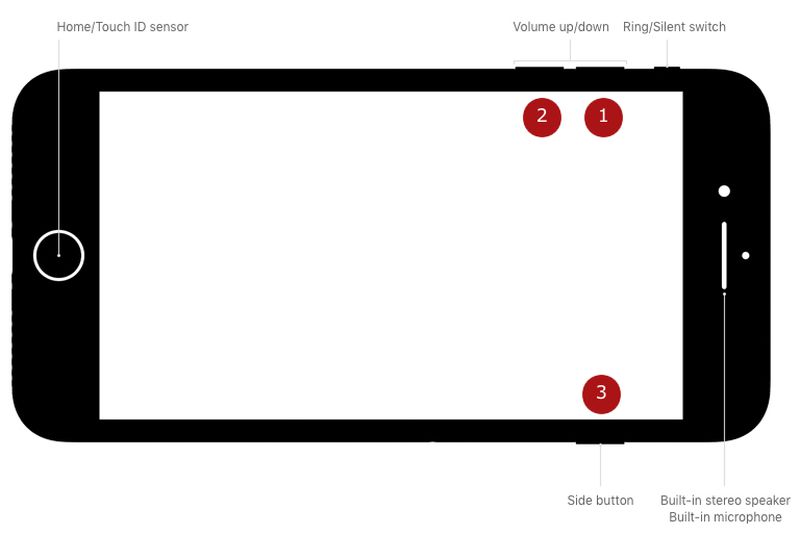 How to Force Restart (Hard Reset) iPhone 8
Press and quickly release the
Volume Up
button. Then, press and quickly release the
Volume Down
button. Finally, press and hold the
Side button
(aka power) until you see the Apple logo.
Powering off regularly still requires holding down the Side button for a few seconds until the "slide to power off" prompt appears. In iOS 11 and iOS 12, there's also a "Shut Down" option in the Settings app at the bottom of the General menu.
Apple made this change because on iPhone 8 and iPhone 8 Plus, pressing and holding the Side aka Sleep/Wake button and one of the Volume buttons now activates the
Emergency SOS feature
.
Restarting Other Devices
Don't have an iPhone 8? Make sure to check out our guides on how to force restart other Apple products, listed below: