Apple's iPad Pro models, available in 11 or 12.9-inch size options, feature edge-to-edge displays with no Home buttons included. The lack of a Home button has resulted in some re-mapped gestures and features, with Apple introducing new restart, shut down, and force restart methods in the tablets.
A shut down and a restart are the same gesture now, while a force restart, used if a regular restart won't work, is a bit different.

To Shut Down/Restart Your iPad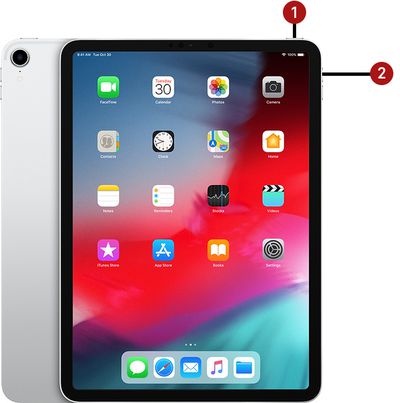 Press and hold down on the top button and either the volume up or volume down button until a slider appears.
Slide a finger along the slider to turn off the iPad.
Once it's turned off, press and hold on the top button again until the Apple logo appears.
On previous devices, you could restart by holding down the home button and the side button on a device at the same time, but in the new models, you need to do a full shutdown and then power the tablet back up in a separate step.
You can also turn off your iPad by opening up the Settings app, choosing General, and selecting "Shut Down."

To Force Restart Your iPad

Press and quickly release the volume up button.
Press and quickly release the volume down button.
Press and hold the Power button until a restart is initiated.
All of the gestures used in the new iPad Pro models are the same as the gestures used in the iPhone X and later, so you can also follow these same steps to shut down or restart an iPhone without a Home button with one small tweak - you'll need to hold the Side button on the right because there is no top power button.