iOS 17 Lock Screen Features: StandBy and Interactive Widgets
With iOS 16, Apple introduced a whole new look for the Lock Screen complete with widgets and customizability, and in iOS 17, the Lock Screen was further refined. Widgets are more useful than ever before, and there's a new StandBy mode that turns your iPhone into an information hub when it's not in use.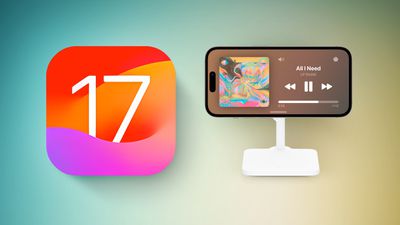 This guide highlights everything that's new with the Lock Screen in ‌iOS 17‌.
StandBy
StandBy is a Lock Screen mode that activates when an ‌iPhone‌ is plugged into a charger and positioned in a horizontal (or landscape) orientation. It works with a MagSafe charger, which is arguably the most useful way to use it, but it also activates with a Qi-based wireless charger or a Lightning charger.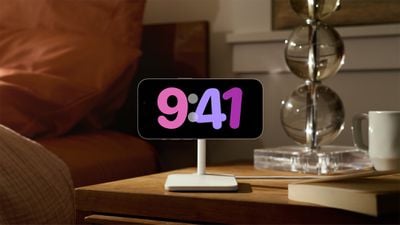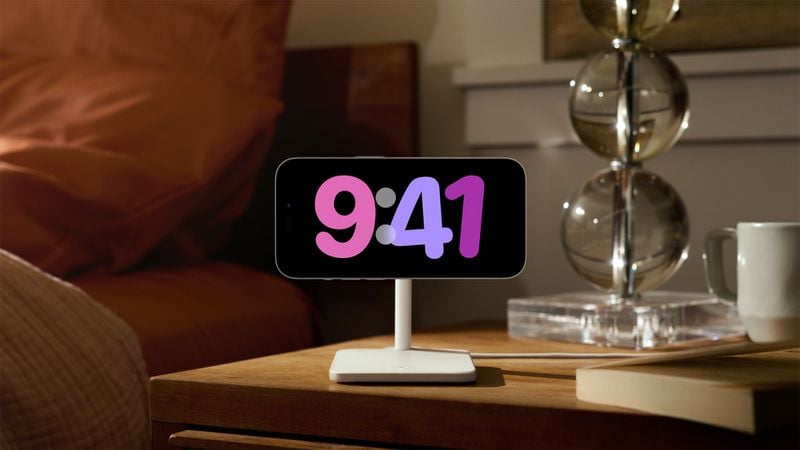 If you have an Apple Watch, it's similar to Nightstand mode, but it does more than Nightstand mode is capable of.

There are several different StandBy screens that you can choose from, some of which are customizable and some of which require unlocking the ‌iPhone‌.
With all of these StandBy screens, you can swipe left or right to swap between one of the three display options, and then you can swipe up and down to choose what's displayed. So if you've set up different Time screens, for example, you can swipe to change between digital and analog.
Notifications
Incoming notifications will be shown full screen when you have your ‌iPhone‌ in StandBy mode. So if you get an iMessage, for example, it will pop up with the name of the person and the Messages icon to let you know you have a message.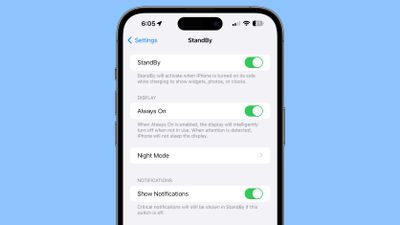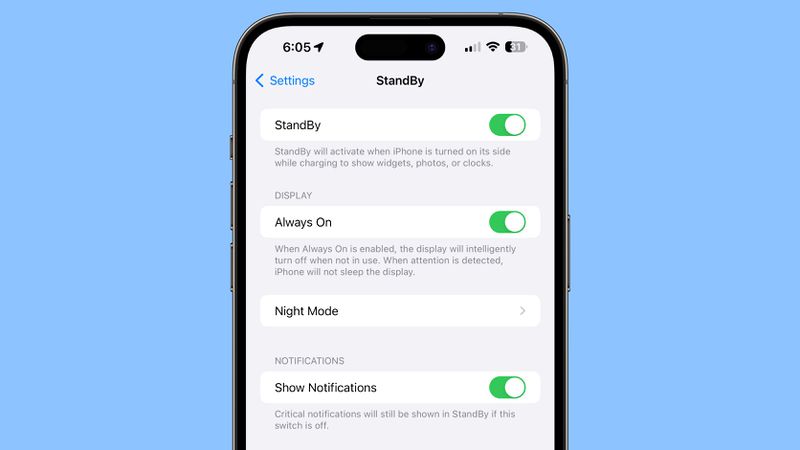 Content that would not normally be shown in a notification will not show up in StandBy mode unless you are nearby and have unlocked your device with Touch ID or Face ID.
Customizing StandBy
On any of the StandBy screens, you can long press to open options for customizing what you see. Long press on either of the widgets on the widget screen, for example, and you can choose the widgets that you want to see.
There are customization options for almost all of the StandBy display options, and it's worth swiping through and long pressing where applicable to change your setup to meet your needs.

Always-On StandBy
With the iPhone 14 Pro and ‌iPhone 14‌ Pro Max (and future iPhones), StandBy is more useful because of the always-on display. StandBy content is always on and active on these devices, without the need to interact with the ‌iPhone‌.
On iPhones without always-on display technology, you need to tap the screen to activate it because it turns off after a short period. You can use StandBy with all iPhones, but it is a better experience with the always-on display.

Interactive Widgets
Lock Screen widgets were introduced with iOS 16, but in ‌iOS 17‌, they're interactive, making them much more useful. On iOS 16, tapping a Lock Screen widget launches the accompanying app, but that step is not necessary for certain widgets that have tasks you can complete without an app.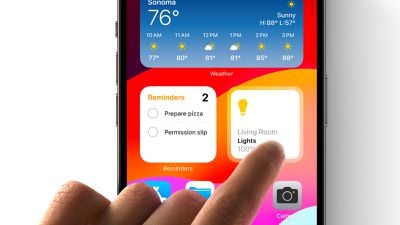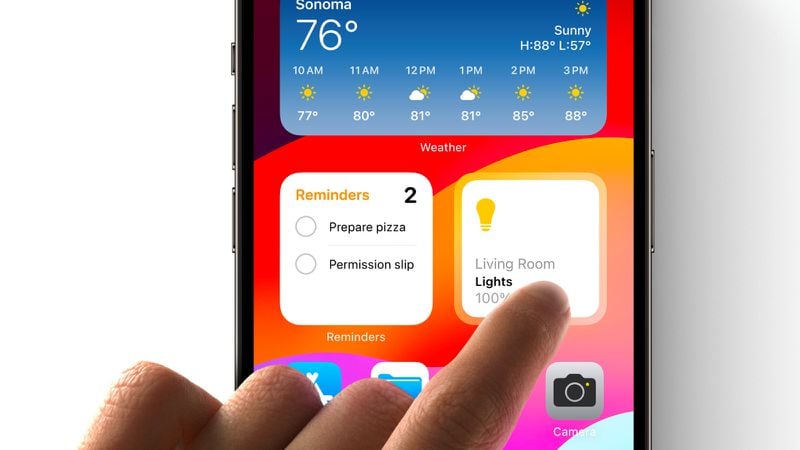 You can check off a task right in the Reminders widget, for example, or use the Home widget to control a smart home device without opening the Home app. Apple apps have interactive features, and third-party developers have an API to adopt interactivity too.
Interactive widgets are available on the Lock Screen and the ‌Home Screen‌, so they can do more wherever you're using them.
Read More
More information about the new features in ‌iOS 17‌ can be found in our iOS 17 roundup.