StandBy is a Lock Screen mode that activates when an ‌iPhone‌ is plugged into a charger and positioned in a horizontal (or landscape) orientation. It consists of three different screens, one of which is the fullscreen time display. Keep reading to learn how to change the style of the clock.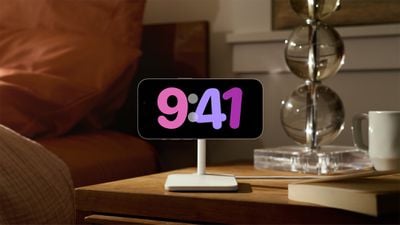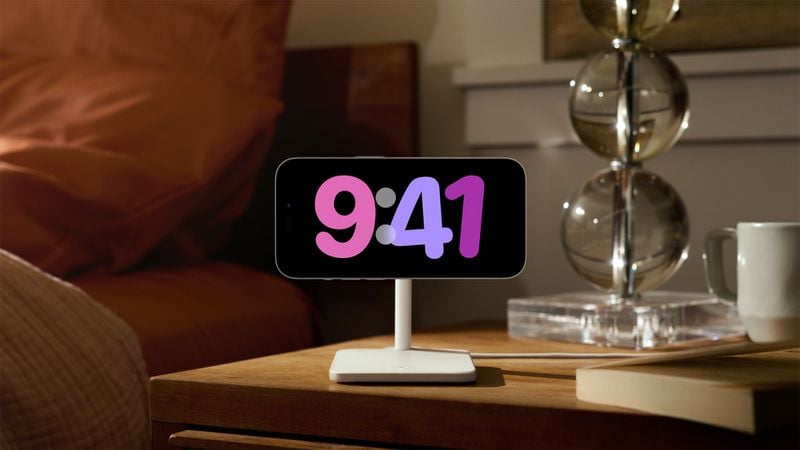 StandBy's third screen shows the time and date in various themes that you can swipe through vertically. Some themes also show additional information like the temperature or your next alarm. If you press and hold on any clock, you can switch between different themes, which include Digital, Analogue, World, Solar, and Float.
Float shows the time in big bubble numbers in customizable colors, Solar has more of a standard font with a solar flare design in different colors, and World shows the time with a map of the world and your current location highlighted. The Analog theme has customizable accent colors, and Digital has bold numbers with different color options.
Here are the steps to take to change the color of the Analog and Digital clocks.
Press and hold on the clock face.


Tap the white button in the bottom-right corner of the clock.


Choose a different color swatch from the row of options that appears.


When you're happy with your selection, tap the X button in the top-right corner of the color swatch menu pane, then tap Done.

That's all there is to it. You can also customize the widgets screen in StandBy mode. Check out our dedicated guide for more help.